Data Science Can Be Offshore Change Agent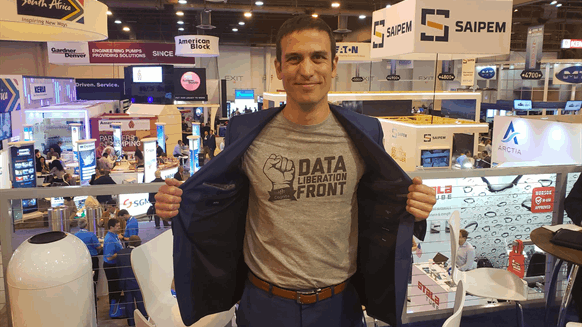 Cognite's Francois Laborie shows off his support for greater data-sharing in oil and gas at OTC.
Francois Laborie and his colleagues at the Norway-based industrial data software provider Cognite are on a mission to increase data-sharing within the oil and gas industry. In fact, the company has expanded into North America by opening two offices in Texas – in Houston and Austin – to help energy firms make better use of the extensive data they collect from their operations.
Speaking to Rigzone on the sidelines of the 2019 Offshore Technology Conference (OTC) Wednesday in Houston, Laborie pointed out that companies wishing to use data science as an agent of change in their organizations need to do more than just hire data scientists. They need to effect a cultural shift by breaking down the "silo" mentality among various company units and encourage collaboration, which includes sharing data, explained Laborie, general manager of Cognite North America.
"If you want to do data science, you need data," he said. "If you want to make an impact, you need to pull different people together."
Laborie observed that data science can yield benefits in various areas of offshore operations – from predictive maintenance to well optimization to health, safety and environmental applications.
"It really touches most of the operational elements," he said.
To be sure, Laborie stressed that one should frame data science in the proper context. He explained that limiting one's definition of "data science" to machine learning overlooks other facets of data science such as physical modeling and analytics. Moreover, he pointed out that there is no single track to becoming a data scientist in the oil and gas industry. He noted that three types of entrants include:
Individuals with formal advanced analytics/data science training who have worked in the finance field and want to apply their skills in oil and gas
Recent math and physics graduates who exhibit strong programming skills but have little or no industry experience
Oil and gas industry veterans who want to apply their math and physics expertise differently.
Laborie noted that, in his experience, the latter group have made impressive contributions to data science.
"Some of our best data scientists have been in the industry for years," he said. "These people are very smart."
Cognite plans to source its new hires from the three groups listed above to strike a balance within its data scientist ranks, said Laborie. New hires should be ready to proclaim the company's message of increasing data-sharing. In fact, Laborie displayed the sentiment – via the "Data Liberation Front" slogan on a t-shirt – at OTC. He was quick to add, however, that the concept of "data liberation" still respects a company's cybersecurity concerns.
"It's easy to confuse 'data liberation' with no control over data," he said, pointing out that companies still determine who can access encrypted data.
Nevertheless, he emphasized that unshared data has no value.
"It's not a naïve message, but you need to liberate it to make use of it," Laborie concluded.
Generated by readers, the comments included herein do not reflect the views and opinions of Rigzone. All comments are subject to editorial review. Off-topic, inappropriate or insulting comments will be removed.