Current Oil Price Pullback Wrapped Into Recession Fears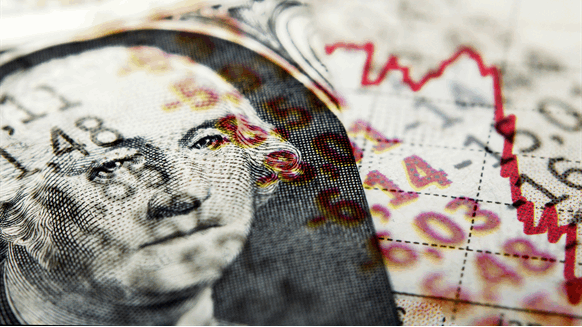 The current pullback in oil prices below $80 Brent is wrapped into recession fears, according to Rystad Energy.
Image by claffra via iStock
The current pullback in oil prices below $80 Brent is wrapped into recession fears as credit conditions in the U.S. and many other economies tighten, and uncertainty looms over the pace of Chinese demand recovery.
That's what Rystad Energy Senior Analyst Louise Dickson said in an oil market update sent to Rigzone on Tuesday, highlighting that a sub-$80 price 'pullback' has happened "a handful of times since November 2022".
"The U.S. economy slowing to 1.1 percent annualized first quarter 2023 growth versus 2.6 percent in the previous quarter on an annualized basis is a potential, but not fully confirmed, harbinger that higher borrowing costs and rising prices may stall economic growth," Dickson stated in the update.
"China targeting an 'about' five percent growth target for its GDP, in a series of continuous downwards revisions, also puts into question how much of a bull China can deliver for economic growth and oil prices," Dickson added.
In the update, Dickson said the relationship between GDP growth and oil demand is "strongly correlated" but noted that it has "slightly decoupled" following the Covid-19 pandemic.
Dickson also warned in the update that May will be a "noisy month in terms of both macro data and fundamentals seasonality".
"May is generally a shoulder season that sees subdued demand - both from refineries undergoing maintenance and from consumers who are waiting until the Northern Hemisphere summer to travel - so weak demand signals now do not necessarily mean weak prices into the high demand summer season," Dickson said.
"May will also be the month we better understand how much of the 1.1 million barrels per day of its voluntary cuts OPEC+ will deliver, as well as how much Russian crude and diesel continues to flood the market and fill up inventories," Dickson added.
On November 7, Brent closed at $97.92 per barrel. The price dipped to a close of $76.1 per barrel on December 9, 2022, rose back up to a close of $85.91 per barrel on December 30, 2022, dipped to a close of $78.57 per barrel on January 6, rose back up to a close of $87.47 on January 26, dipped to a close of $79.94 on February 3, rose back up to a close of $86.61 per barrel on February 13, then dipped to a close of $72.97 on March 17, before rising back up to a close of $86.31 per barrel on April 14. On May 2, Brent closed at $75.32 per barrel.
According to an extraordinary market update by Rystad Energy Senior Vice President Jorge Leon, which was sent to Rigzone last month, if fully delivered, the newly announced OPEC+ cuts would further tighten an already fundamentally tight oil market, drive Brent towards $100 per barrel sooner than previously expected and push the price to around $110 per barrel this summer.
As of April 26, 12.37am CEST, there have been 764.47 million confirmed cases of Covid-19 globally, with 6.91 million deaths, according to the latest figures from the World Health Organization (WHO). A total of 13.34 billion vaccine doses have been administered, as of April 25, the latest WHO data shows.
To contact the author, email andreas.exarheas@rigzone.com
What do you think? We'd love to hear from you, join the conversation on the Rigzone Energy Network.

The Rigzone Energy Network is a new social experience created for you and all energy professionals to Speak Up about our industry, share knowledge, connect with peers and industry insiders and engage in a professional community that will empower your career in energy.