Crude Oil Uptick Continues
|
Tuesday, December 04, 2018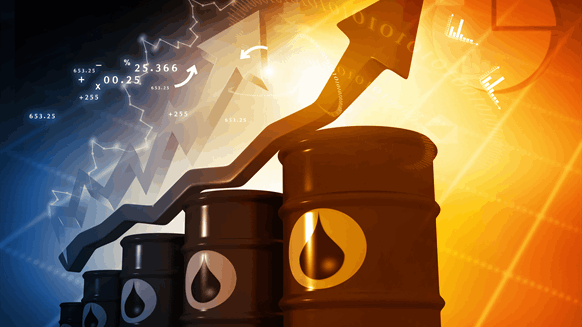 Crude prices posted more day-on-day gains as players in the oil market anticipate the Dec. 6 meeting in Vienna of OPEC and non-OPEC member nations.
The January futures price for West Texas Intermediate (WTI) crude oil settled at $53.25 a barrel Tuesday, posting a 30-cent gain. The intraday range for the WTI fluctuated between a low of $52.67 and a high of $54.55.
Also ending the day higher was the price of a barrel of Brent crude oil for February delivery. The Brent increased by 39 cents to settle at $62.08.
Crude prices posted more day-on-day gains as players in the oil market anticipate the Dec. 6 meeting in Vienna of the Organization of Petroleum Exporting Countries (OPEC) and non-OPEC member nations. Members of the cartel, which will get smaller next month with the exit of Qatar, are expected to agree to coordinated production cuts to help support oil prices.
"OPEC's strength is driven by its common need for stable (and high) oil prices," Barani Krishnan, senior analyst with Investing.com, said in an analysis emailed to Rigzone Tuesday. "So long as the members, along with strategic ally Russia can work out their differences based on that, the organization will survive."
Krishnan also noted that it OPEC should emerge from various current crises but would do well to maintain a relatively low profile for now.
"The cartel survived the 1970s oil embargo, it survived the financial crisis, and it survived the Great Shale Glut of 2014-2017," Krishnan stated. "The current oversupply, as well as the (murder of Saudi journalist Jamal) Khashoggi crisis, will likely come to pass, too. But they, or rather the Saudis who are controlling OPEC's levers, need to lie low for now. This isn't a time to flaunt your energy, so to speak, particularly when you're walking on eggshells."
The price of a gallon of reformulated gasoline (RBOB) often tracks that of crude oil, and Tuesday was no exception. January RBOB rose by a penny to end the day at $1.44.
January Henry Hub natural gas futures on erased some of the six-percent loss that it posted a day earlier. On Tuesday, the benchmark gained 12 cents to settle at $4.46.
Generated by readers, the comments included herein do not reflect the views and opinions of Rigzone. All comments are subject to editorial review. Off-topic, inappropriate or insulting comments will be removed.