Crude Oil Up for the Week
by Matthew V. Veazey
|
Rigzone Staff
|
Friday, February 22, 2019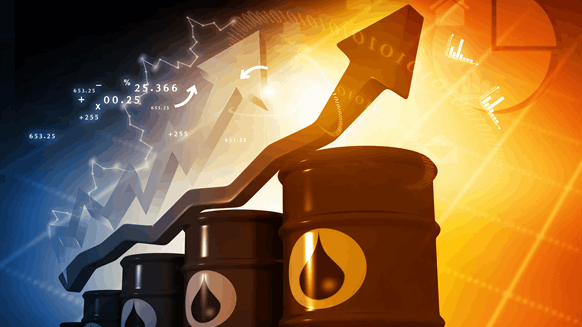 The WTI is up three percent while the Brent is up 1.3 percent.
West Texas Intermediate (WTI) crude oil for April delivery gained 30 cents Friday to settle at $57.26 per barrel. Against the Feb. 15 settlement, the WTI is up three percent.
April Brent crude oil futures posted a more modest five-cent increase Friday, settling at $67.12 per barrel. Week-on-week, the Brent is up 1.3 percent.
"Oil prices for April climbed to highs not seen since mid-November on lower global output, a strong U.S. stock market and a weaker U.S. dollar," said Tom Seng, Assistant Professor of Energy Business with the University of Tulsa's Collins College of Business.
Seng pointed out that crude prices have reached their highest levels in months despite bearish U.S. supply and inventory numbers. Also, he noted that the OPEC+ group of oil producers continues to follow its stated objective of re-balancing the world oil market with its targeted output reduction of 1.2 million barrels per day (bpd). Although Iran and Venezuela are exempt from the informal curtailment deal, both countries have seen reduced exports as a result of U.S. sanctions, he added.
"In fact, Venezuelan crude inventories have reached a five-year high as the country seeks new buyers for its heavy crude," Seng said. "Meanwhile, U.S. oil production hit the key 12 million bpd level last week, according to the U.S. Energy Information Administration (EIA), a mark never reached by any oil-producing country before. And, shale oil plays in the U.S. are expected to be producing an additional 84,000 bpd in March, making the total from just these basins around 8.4 million bpd."
The EIA's latest Weekly Petroleum Status Report contributed more bearish sentiment, added Seng. Key indicators from the report include:
A higher-than-expected 3.7 million-barrel gain in total commercial crude inventories, putting total reserves at six percent above the five-year average for this time of year
Lower refined products inventories, with a 1.4 million-barrel decrease in total motor gasoline and a 1.5 million-barrel drop in distillates – all providing some support to oil prices
Refinery utilization of approximately 86 percent
Seng also noted that the U.S. dollar fell off mid-week, providing extra upward momentum for crude prices. In addition, he said that the U.S. stock market gained on continuing hopes that the United States and China would resolve their trade disputes.
"Baker Hughes reported today that the number of rigs in the U.S. drilling for oil decreased by four last week," Seng added. "Technically, the April WTI NYMEX futures contract is poised to move lower eventually as it is trading well above its five-, 10- and 20-day moving averages. Momentum indicators show it to be 'overbought' currently. Volume has been strong with over 500,000 trading every day now."
Reformulated gasoline (RBOB) posted a slight loss Friday. The March RBOB contract shed less than one cent to end the day at $1.61 per gallon. For the week, however, RBOB is up 2.5 percent.
Front-month Henry Hub natural gas futures added two cents Friday to settle at nearly $2.72. The March gas benchmark price has gained 3.5 percent since Feb. 15.
"Natural gas futures finally made gains this week as wave-after-wave of cold continues to enter the U.S. and spread across the country while storage levels continue to remain low," said Seng. "Still, March prices are relatively low given where they were just three weeks ago."
Seng also noted that the EIA's latest installment of its Weekly Natural Gas Storage Report revealed:
A withdrawal last week of 177 billion cubic feet (Bcf), slightly above expectations
Slightly more than 1.7 trillion cubic feet of total gas in inventory
1
2
View Full Article
Generated by readers, the comments included herein do not reflect the views and opinions of Rigzone. All comments are subject to editorial review. Off-topic, inappropriate or insulting comments will be removed.