Crude Oil Up for the Week
|
Friday, December 07, 2018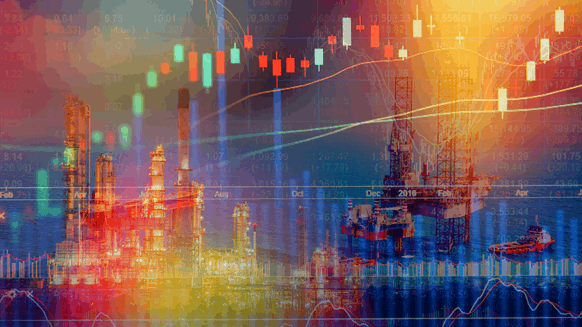 Crude futures rose amid a 'plethora of conflicting market signals.'
Crude oil futures did something Friday that they haven't done in more than two months: they finished the week higher.
The January West Texas Intermediate (WTI) contract gained $1.12 Friday, settling at $52.61 a barrel. The WTI traded within a range from $50.60 to $54.22, and Friday's settlement reflects a 3.3-percent increase over the Nov. 30 closing price.
Brent crude oil for February delivery settled at $61.67 a barrel Friday, reflecting a $1.61 day-on-day increase and a 3.6-percent week-on-week improvement.
"WTI and Brent finished the week higher for the first time in nine weeks despite a plethora of conflicting market signals," Tom Seng, Assistant Professor of Energy Business at the University of Tulsa's Collins College of Business, told Rigzone. "It seemed to be 'Trump vs. China' and 'Trump vs. Saudi Arabia' in the spotlight."
Seng explained that sideline discussions between President Trump and China's President Xi at the G20 summit in Argentina last weekend "gave the market some positive false hope early in the week as Trump stated an agreement would be forthcoming, but details were lacking." Midweek, Trump tweeted his displeasure about news that the "OPEC+" group might curtail output next year in an effort to raise prices, Seng added. He explained that Trump was expecting OPEC linchpin Saudi Arabia to refrain from backing any production curbs by the cartel.
"Oil prices had moved higher early week, slipped yesterday, but rebounded today on news that OPEC+ has indeed agreed to cut output after the first of the year," Seng said. "Proposed cuts are expected to be about 1.2 million barrels per day (bpd) – OPEC 800,000 and non-members 400,000. The cartel is facing internal conflict as some member countries resent the influence of Russia, Iran wishes to be exempt from any output curtailments and Qatar announced its plan to leave the organization."
In terms of oil supply, Seng pointed out that the U.S. Geological Survey (USGS) reported that the Permian Basin holds "nearly 5 decades worth of oil." The USGS noted that the Delaware Basin portion of the Permian boasts an estimated 46.3 billion barrels and the Midland Basin portion roughly 20 billion barrels, he said.
"The U.S. was also a net exporter of crude oil last week, marking the first time in almost 75 years that has occurred," Seng added.
January reformulated gasoline (RBOB) also posted a gain Friday, picking up five cents to settle at $1.49 a gallon.
"RBOB continues to trade in lockstep with crude oil and settling higher on the week as well," said Seng. "Current price levels have not been this low since Oct. 2016."
Also posting an increase Friday was Henry Hub natural gas for January delivery. The benchmark gained 16 cents to settle at $4.49, which represents a 2.6-percent dip for the week.
"Natural gas started the week lower, along with other energy commodities, but strengthened late on a 'bullish' storage report," said Seng, referring to the latest data from the U.S. Energy Information Administration (EIA). "The EIA's Weekly Natural Gas Storage Report showed a withdrawal of 63 billion cubic feet (Bcf) for last week, above a consensus forecast of 57 Bcf."
Seng added that total gas in storage stands at less than 3 trillion cubic feet (Tcf), back to 19 percent below one year ago and the five-year average.
"Production last week increased to 88.7 Bcf per day (Bcfd) while consumption was 99.3 Bcfd, with decreases occurring in residential and export sectors," Seng said. "Exports to Mexico fell to 4.4 Bcfd while LNG exports decreased to 4.4 Bcfd. Pipeline fuel usage and losses amounted to 7.4 Bcfd. On another note, natural gas flaring in the Permian Basin is reaching record levels and is expected to increase further as production awaits infrastructure expansions."
Generated by readers, the comments included herein do not reflect the views and opinions of Rigzone. All comments are subject to editorial review. Off-topic, inappropriate or insulting comments will be removed.