Crude Oil Finishes Lower
by Matthew V. Veazey
|
Rigzone Staff
|
Tuesday, May 07, 2019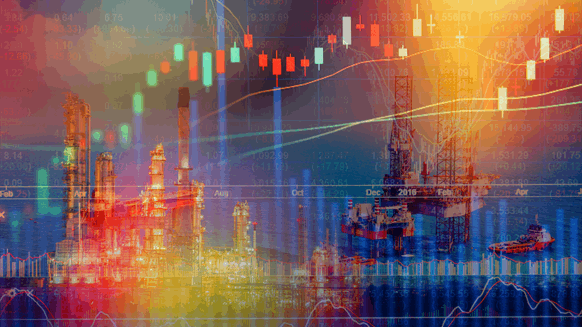 WTI and Brent crude oil reverted to negative overall price movements Tuesday.
West Texas Intermediate and Brent crude oil reverted to negative overall price movements Tuesday.
June WTI futures lost 85 cents Tuesday, settling at $61.41 per barrel. The WTI peaked at $62.49 and bottomed out at $60.66.
Brent crude oil for July delivery shed $1.36 to end the day at $69.88 per barrel.
"On any given day in oil now, the pendulum swings from Iran to China and beyond," said Barani Krishnan, senior commodities analyst with Investing.com. "Tuesday was a classic example."
Krishnan explained that, one day after crude rebounded amid "saber-rattling against Iran," oil fell again as the market pondered President Trump's "fresh tariffs offensive against China." He added that fears center on the prospect of Beijing walking away from trade talks with the U.S., weakening the global economy.
"The sheer number of countervailing factors in oil now makes one wonder how the average trader can cut through the noise, and make the right call," said Krishnan, adding that conflicts other than surging U.S. crude inventories include:
Relentless OPEC production cuts
Additional supply losses in Iran, Venezuela and Libya
The deployment of a U.S. naval carrier in the Arabian Gulf to deal "forcefully" with a prospective Iranian strike
New U.S. tariffs suggested for China.
"The only thing missing is a potent jump in U.S. crude output each week, with the Energy Information Administration reporting fewer and further apart record highs in production these days," said Krishnan, who attributes most of the market developments to two sources: Trump and Saudi Arabia.
"It was Trump who drew first blood, tricking the Saudis and OPEC into raising production substantially last summer on the notion that he was going to hit the Iranians hard with sanctions before he did the opposite to trigger a supply glut and price crash," Krishnan remarked. "It's the Saudis who've been slashing output since and now refuse to add to production even with Trump cajoling them to do so, since he has finally delivered on Iran."
Moreover, Krishnan noted that Trump initiated sanctions against the regime of Nicholas Maduro in Venezuela and that Saudi Arabia is behind unrest in Libya through its support for renegade general Khalifa Haftar. He said that "an increasing fight over oil prices" between the Saudis and Trump may emerge in the coming weeks and months.
"The President desperately needs lower U.S. pump prices for his 2020 reelection bid," said Krishnan. "The Saudis know this, yet they're selfish over their own need to keep the market where it is or send it even higher. Thus the decision last week to raise the Official Selling Price of Arab Heavy crude to Asian customers, in a bid to keep physical oil prices on par with the action in futures."
Krishnan added that Trump is a formidable rival to the Saudis on the issue of crude oil.
"He has so far been the most creative White House occupant in meddling with oil prices," said Krishnan. "He remains a dangerous wild card to oil bulls with his quest for low gas prices, particularly as U.S. crude inventories start rising again."
Reformulated gasoline (RBOB) also edged downward Tuesday. The June RBOB contract settled at $1.95 per gallon, reflecting a five-cent decline.
Henry Hub natural gas posted the only gain among the four energy prices that Rigzone tracks. June natural gas added a penny to end the day at $2.54.
Generated by readers, the comments included herein do not reflect the views and opinions of Rigzone. All comments are subject to editorial review. Off-topic, inappropriate or insulting comments will be removed.