Crude Oil Ends May with a Thud
by Matthew V. Veazey
|
Rigzone Staff
|
Friday, May 31, 2019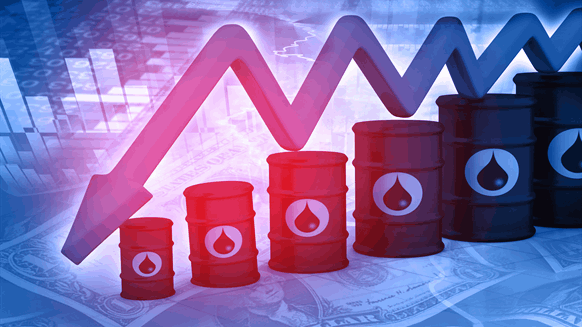 The July WTI and August Brent contracts each lost more than $3 Friday.
West Texas Intermediate (WTI) crude oil for July delivery plunged again Friday, losing $3.09 to settle at $53.50. The WTI traded within a range from $53.10 to $56.61.
The August Brent contract also fell sharply Friday, declining $3.34 to end the day at $61.99 per barrel.
In just six days of trading, since May 22, the WTI has lost approximately $7.30 per barrel – or 12 percent – of its value on "flailing fundamentals and negative economic factors," Tom Seng, Assistant Professor of Energy Business at the University of Tulsa's Collins College of Business, told Rigzone.
"The U.S. marker declined about 14 percent this month and has hit its lowest price level since early February while Brent, the global standard, has lost about 11 percent value in May, the biggest one-month decline since last November," said Seng. "With the exception of some profit-taking Tuesday, crude has lost about $4.65 per barrel during this holiday-shortened trade week alone."
Seng pointed out crude prices are down amid a seemingly escalating trade conflict between the United States in China, with the latter curbing rare earth mineral exports after the U.S. hiked tariffs on Chinese goods and imposed restrictions on entities doing business with Huawei Electronics. He also noted that global equities have suffered and the U.S. stock market, in particular, is down considerably for the week. In addition, he observed the economic impacts of sanctions against Iran and Venezuela are starting to create global concerns.
"Gold seems to be the beneficiary currently as investors move away from the more risky markets like equities and crude," said Seng. "And, while higher earlier in the week, the U.S. dollar is down today but not providing the normal support for oil prices."
Seng also noted the latest Weekly Petroleum Status Report from the U.S. Energy Information Administration (EIA) showed:
A 282,000-barrel drop in commercial crude oil stocks last week, below the 1 million-barrel and 5.3 million-barrel draws anticipated by Wall Street Journal analysts and the American Petroleum Institute
U.S. crude stocks at 476 million barrels, reflecting a 22-month high, an eight-percent increase so far this year and a level five percent higher than the five-year average for this time of year
An increase in refinery utilization to 91.2 percent – but down two percent year-on-year
An 8.5-percent drop in crude imports compared to year-ago levels
A mere 16,000-barrel drop in crude stocks at the key Cushing, Okla., storage hub, which is filled to approximately 60 percent of capacity
An increase in U.S. oil production back to the 12.3 million barrels per day seen in April, adding to bearish sentiment.
Seng also observed that Baker Hughes, a GE company's latest rig count added to bearishness by reporting a three-rig increase in the U.S. last week – the first gain after three straight weekly declines. However, he also noted that expectations are bullish regarding the OPEC+ group's meeting late next month. He explained that market-watchers anticipate the alliance will maintain current oil output levels.
"Technically, July WTI has 'fallen out of bed,' now trading below its five-, 10- and 20-day moving averages," said Seng. "Overbought/oversold indicators have plummeted to a definitively 'oversold' position in short order. Volume for July WTI futures contracts has traded above and below 1 million contracts per day lately. Looking ahead, the market will still be focusing on U.S.-China trade conflicts, Iran, Venezuela – and now possible tariffs on Mexico's crude exports."
Reformulated gasoline (RBOB) also finished lower Friday. June RBOB futures settled at $1.80 per gallon, reflecting a nearly eight-cent decline. Seng pointed out that RBOB is down approximately six percent this week and that total gasoline inventories are above the five-year average for this time of year.
"Both RBOB futures prices and retail prices are lower than this time last year," added Seng. "U.S. refiners intend to appeal to the Trump administration for an exemption on Mexican crude imports, which they rely on since it is a heavier grade and they can no longer import from Venezuela – a former source of the heavy. The Trump tariff announcement comes right on the heels of the start of the summer driving season."
Henry Hub natural gas futures also edged downward during Friday's trading. The July contract fell nine cents, settling at $2.45.
"While not correlated, July natural gas futures price action this week resembled that of crude," said Seng. "A bearish storage report and mild weather outlook combined to send natgas lower on the week."
In addition, Seng noted the latest EIA Weekly Natural Gas Report showed:
A higher-than-expected build in total gas stored last week – 114 billion cubic feet (Bcf) instead of the 99-Bcf consensus forecast
Slightly more than 1.8 trillion cubic feet of total gas in inventory, translating into a lower year-on-year inventory variance at 8.1 percent and a differential to the five-year average decreasing to 12.1 percent
89.5 Bcf per day (Bcfd) of production last week against 78.8 Bcfd of total demand
4.8 Bcfd in exports to Mexico and 5.8 Bcfd in liquefied natural gas exports
"Technically, July natural gas prices are below the five-, 10- and 20-day moving averages," concluded Seng. "The contract is in a slightly oversold market condition."
Generated by readers, the comments included herein do not reflect the views and opinions of Rigzone. All comments are subject to editorial review. Off-topic, inappropriate or insulting comments will be removed.
MORE FROM THIS AUTHOR
Matthew V. Veazey
Senior Editor | Rigzone