Crude Oil Ends Day Higher
|
Wednesday, February 13, 2019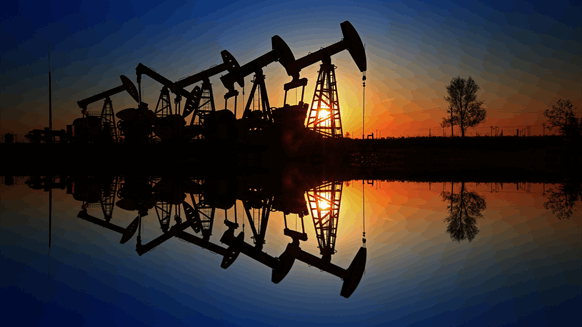 Natural gas didn't add to its three-day winning streak, though.
Both major crude oil benchmarks finished higher during midweek trading.
The March WTI contract price gained 80 cents Wednesday, settling at $53.90 per barrel. During the midweek session it fluctuated within a range from $53.27 to $54.60.
Brent crude oil for April delivery ended the day at $63.61 per barrel, reflecting a $1.19 gain for the day.
"Both March WTI and April Brent crude oil have been trading with a sideways consolidation pattern for over a month," Steve Murphy, vice president with Rockville Centre, N.Y.-based Rafferty Commodities Group, told Rigzone.
Murphy noted that the daily charts for the WTI and Brent show the market contained within horizontal lines of support and resistance.
"Earlier in today's session, April Brent made a high of 6398 which was right at the 6400 area which forms the upper boundary of the pattern," Murphy explained. "The lower end of the pattern is supported by the 5920 area. The daily chart for March WTI shows the market contained by the 4980 and 5534 areas."
Murphy noted that the recent price pattern has offered an advantageous circumstance.
"Trading the opportunities around these major levels have borne much fruit," Murphy said. "While we favor the conclusion of the pattern with an eventual breakout to the upside, we want to continue to trade the markets against our listed support and resistance levels until a break beyond our major levels can occur either way."
Like crude oil, reformulated gasoline (RBOB) rose Wednesday. March RBOB futures picked up nearly 4 cents to settle at nearly $1.47 per gallon.
Henry Hub natural gas, which enjoyed three straight gains in recent trading days, failed to add a fourth win to the streak. The March contract lost 11 cents Wednesday and settled at $2.575.
Steve Blair, vice president and principal with Rafferty, told Rigzone that the natural gas futures market has shown little change in price structure since Feb. 4 and has lingered in a sideways congestion pattern.
"This congestion is bounded by major supports around the $2.526 and $2.524 levels on the daily and weekly charts," said Blair. "On the upside, major resistance continues to be at the $2.771 level although there is some minor resistance seen at the high made this past Monday at $2.732."
Blair noted that the recent fluctuation presents opportunity for now.
"We continue to want to trade this back-and-forth action until such time as the market breaks out on a closing basis," said Blair. "Should this occur, there is major support down at the $2.489 level as seen on the monthly chart and major resistance at the $2.835 level as seen on the weekly chart."
Generated by readers, the comments included herein do not reflect the views and opinions of Rigzone. All comments are subject to editorial review. Off-topic, inappropriate or insulting comments will be removed.