Crude Oil Down Two-plus Percent for Week
|
Friday, October 26, 2018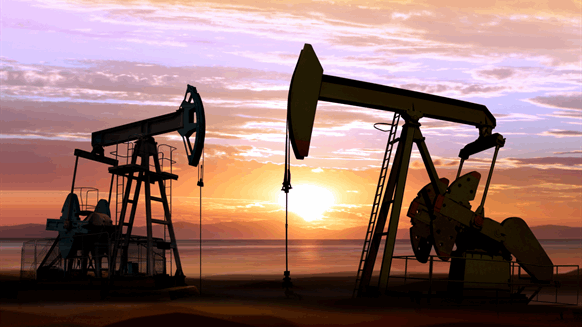 The WTI and Brent crude oil futures contracts ended down for another week.
The West Texas Intermediate (WTI) and Brent crude oil futures contracts ended another week lower.
Although the December WTI gained 26 cents Friday, the U.S. benchmark's settlement price of $67.59 per barrel (bbl) reflects a 2.2-percent drop from the October 19 close. For the Brent, the decline during the period was a sharper 2.7 percent. The December Brent contract settled at $77.62 a barrel, translating into a 73-cent day-on-day increase.
"Bearish news on both the financial and physical fronts worked to push prices lower, with slight rebounding occurring in the latter days" of the week, said Tom Seng, Assistant Professor of Energy Business with the University of Tulsa's Collins College of Business. "U.S. and global stock markets got hammered while the U.S. dollar index hit an 18-month high, further depressing crude prices."
Switching to the supply side, Seng pointed out the week's highlights on that front included Russia and OPEC members maintaining that they could make up for any shortfall in Iranian crude oil output. Also, he noted that the latest U.S. Energy Information Administration (EIA) Weekly Petroleum Status report showed a 6.3 million-bbl gain in crude stocks – higher than the 3.3 million bbl some analysts had projected but lower than the 9.9 million bbl anticipated by the American Petroleum Institute.
"This is the fifth straight week of gains in crude storage," said Seng. "Inventory at the key Cushing Hub storage increased last week by almost 1.4 million bbl. Refinery utilization increased slightly, but inventories of both gasoline and distillates declined. Rigs in the U.S. drilling for oil increased last week by four. OPEC's Joint Ministerial Monitoring Committee expressed concern that an over-supply situation for oil could develop in 2019."
Declining even more week-on-week than crude oil was November reformulated gasoline (RBOB), which has shed five percent since October 19. On Friday, the front-month RBOB contract settled at $1.815 a gallon – a day-on-day gain of less than a penny. Seng noted that gasoline futures tumbled early in the week but have managed to rebound.
Also losing ground for the week is the November Henry Hub natural gas price, which slid two cents Friday to settle at $3.185. Compared to the October 19 settlement price, gas is down two-percent week-on-week.
"Despite the entrance of some cold weather in the northern tier states, natural gas fell off its highs from last week," observed Seng. "Even the EIA Weekly Natural Gas Storage report, showing a modest injection for last week of 58 billion cubic feet (Bcf), failed to rally prices. The change was right near forecasts."
In addition, Seng pointed out that the gas storage deficit year-on-year is 16.4 percent and noted that the five-year average is at 16.8 percent.
"Total gas in storage now stands at 3.095 trillion cubic feet (Tcf)," Seng continued. "And, with essentially two weeks of the 'injection season' remaining, a season-ending total of at least 3.2 Tcf should be achievable. Production last week increased to 86.5 Bcf per day (Bcfd) while consumption rose to 84.6 Bcfd on early cold weather in parts of the U.S. and an increase in exports."
Gas exports to Mexico increased to 4.9 Bcfd and liquefied natural gas exports rose to 3.7 Bcfd, Seng noted.
Generated by readers, the comments included herein do not reflect the views and opinions of Rigzone. All comments are subject to editorial review. Off-topic, inappropriate or insulting comments will be removed.