Crude Oil Down Six-plus Percent for Week
|
Friday, November 02, 2018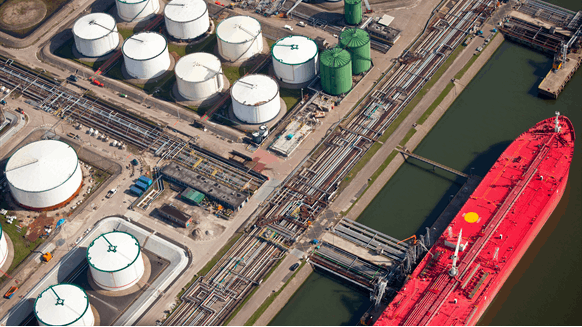 The ongoing slump in global and US stock markets has dampened the energy demand outlook, and a stronger US dollar earlier this week hasn't helped.
The December futures price for West Texas Intermediate (WTI) crude oil fell 55 cents Friday to settle at $63.14 a barrel, translating into a 6.6-percent decline since October 26. Posting a smaller 6-cent loss Friday was the January Brent, which settled at $72.83 a barrel. The Brent is down 6.2 percent week-on-week.
"This week, WTI and Brent continued their stair-stepped decline that began four weeks ago, losing about $14 per barrel since then and nearly six percent this week along," said Tom Seng, Assistant Profession of Energy Business with the University of Tulsa's Collins College of Business. "WTI hit a six-month low while Brent pricing was the lowest since mid-August."
The December WTI NYMEX futures contract has technically moved into "very oversold" territory while trading well below its 5/10/20-day moving averages, Seng pointed out. "The WTI market continues to be in 'contango,' whereby each successive futures month is trading higher than its predecessor," he said. "The Brent/WTI spread is near $9.55."
The ongoing slump in global and U.S. stock markets has dampened the energy demand outlook, and a stronger U.S. dollar earlier this week contributed to the downward momentum on crude prices, Seng continued. He observed that supply news was "almost completely bearish," with government reports showing gains in oil production and crude stocks. Also, he pointed out that the number of rigs in the United States drilling for oil rose by four last week.
Oil traders in recent months have also been contemplating the resumption of U.S. economic sanctions on Iran, a significant crude supplier on the world market. That ongoing story took on an added twise Friday.
"The Trump administration has announced its intention to issue temporary waivers to eight countries that will allow them to continue purchase oil from Iran while they seek other sources," said Seng.
Also ending lower on Friday was December reformulated gasoline (RBOB), which fell by nearly a penny to settle at $1.71 a gallon. RBOB is down nearly six percent week-on-week.
"RBOB traded in lock-step with crude oil this week, falling throughout the week and hitting price levels not seen since February," said Seng.
Despite the declines noted above, this installment of Rigzone's daily market recap is not entirely negative. December Henry Hub natural gas futures gained nearly a nickel Friday to settle at $3.28. Compared to the Oct. 26 settlement, gas is up three percent for the week.
Seng pointed out that gas is up as a result of lower-than-expected injection into storage for last week. He explained that the U.S. Energy Information Administration Natural Gas Storage Report showed a modest injection of 48 billion cubic feet (Bcf) for last week. That left total inventory behind both last year's level as well as the five-year average by approximately 17 percent, he said.
"Total gas in storage now stands at 3.143 trillion cubic feet (Tcf)," Seng said. "And, with essentially one week of the 'injection season' remaining, a season-ending total of at least 3.2 Tcf should still be achievable. Production last week increased to 87.6 Bcf per day (Bcfd) while consumption fell to 83.7 Bcfd on mild weather in most parts of the United States."
Elsewhere, gas exports to Mexico fell to 4.8 Bcfd and LNG exports increased to 3.8 Bcfd, Send added.
Generated by readers, the comments included herein do not reflect the views and opinions of Rigzone. All comments are subject to editorial review. Off-topic, inappropriate or insulting comments will be removed.