Crude Oil Down on Trade Deal Talk
by Matthew V. Veazey
|
Rigzone Staff
|
Thursday, February 07, 2019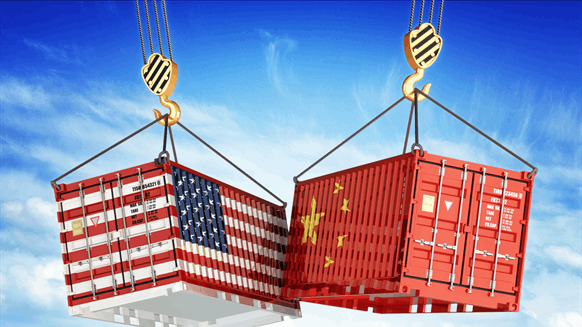 A downbeat assessment of US-China trade negotiations put downward pressure on the crude oil market Thursday.
Crude oil futures failed to regain traction Thursday afternoon following reports that a top White House aide offered a downbeat assessment of the progress of trade negotiations between the United States and China.
Oil futures, along with U.S. equities, fell earlier in the day after White House economic advisor Larry Kudlow reportedly cautioned that a "'sizable distance'" remains between the United States and China as they seek to resolve their trade differences and prevent their "tariff war" from worsening, according to Bloomberg. The remark stoked ongoing concerns about economic growth prospects.
West Texas Intermediate (WTI) crude oil for March delivery shed $1.37 Thursday, settling at $52.64 per barrel. The WTI bottomed out at $51.80 and peaked at $54.21.
April Brent crude oil ended the day at $61.63 per barrel, reflecting a decline of $1.06.
In a report issued Wednesday afternoon, the U.S. Energy Information Administration (EIA) stated that recently announced U.S. sanctions aimed at Venezuela's national oil company will "essentially eliminate U.S. imports of Venezuelan crude oil as the full effects of the sanctions emerge." However, EIA added that it does not expect actions toward Petroleos de Venezuela, S.A. (PDVSA) to significantly decrease U.S. refinery runs.
"U.S. imports of Venezuelan crude oil have been falling for several years and refineries have been replacing Venezuelan crude oil with other heavy crude oils," EIA stated in its latest "This Week in Petroleum" report.
EIA added that refineries may choose to run lighter crude slates because transportation constructions may curb the availability of heavier crudes. However, it also acknowledged that refiners with "significant asphalt and road oils capacity" may find it more difficult to locate substitute feedstocks.
Reformulated gasoline (RBOB) also declined Thursday. The March contract price lost 3 cents to settle at nearly $1.43 per gallon.
Henry Hub natural gas futures finished down as well. The March contract price fell by 11 cents to end the day at $2.55.
Generated by readers, the comments included herein do not reflect the views and opinions of Rigzone. All comments are subject to editorial review. Off-topic, inappropriate or insulting comments will be removed.