Crude Oil Down on OPEC Uncertainty
by Matthew V. Veazey
|
Rigzone Staff
|
Tuesday, November 20, 2018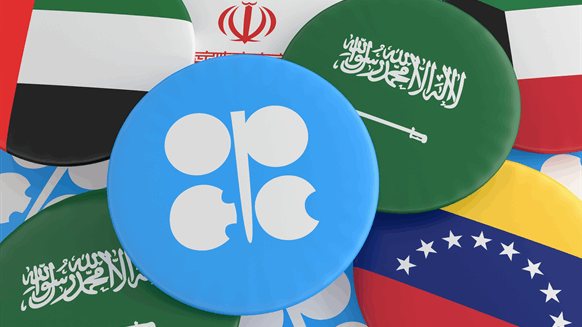 WTI and Brent crude futures prices fell on concerns about OPEC, economic growth and soft petroleum demand.
January 2019 West Texas Intermediate (WTI) crude oil futures declined by $3.77 Tuesday to settle at $53.43 a barrel. The WTI traded within range from $57.44 down to $52.77.
Brent crude oil for January 2019 delivery also fell sharply Tuesday, losing $4.26 to end the day at $62.53.
"Uncertainty about OPEC's response to lower oil prices and ongoing concerns about weak economic growth and soft petroleum demand continued to undercut oil prices," Jason Feer, global head of business intelligence with Poten & Partners, told Rigzone. "The fact that U.S. crude inventories are above five-year averages also contributed to a nearly seven-percent decline in January U.S. crude futures prices."
New speculation regarding relations between the United States and Saudi Arabia added another twist to the uncertainty surrounding the direction OPEC will take, added Feer. He was referring to a White House statement Tuesday expressing support for Saudi Arabia despite the controversy surrounding the recent murder of a Saudi journalist at the Kingdom's consulate in Istanbul, Turkey.
"President Trump's statement of strong support for Saudi-U.S. relations also spurred theories that Saudi Arabia would forego production cuts as the Trump administration has been working to talk down oil prices," explained Feer. "However, if prices remain low through next week, when OPEC ministers will meet, it seems likely the organization will reduce output in a bid to support prices."
The December futures price for reformulated gasoline (RBOB) also ended the day lower. RBOB settled at just under $1.50 a gallon, representing a nearly nine-cent drop for the day.
"Gasoline prices also fell amid ongoing concerns about global gasoline demand and abundant supply, spurred in part by rising light crude production in the U.S., which is leading to higher gasoline and naphtha production out of U.S. refineries," said Feer.
Despite recent upward momentum, the December Henry Hub natural gas contract price failed to closer higher Tuesday. The front-month contract lost 18 cents to settle at $4.52 per million British thermal units (MMBtu). Continuing cold weather and concerns about U.S. storage levels kept prices above the $4.50 per MMBtu mark, Feer said.
"Volatility is likely to be a feature in the market through the end of the winter as it is too late for significant injections into storage," concluded Feer. "So any cold weather will likely be met by price spikes."
Generated by readers, the comments included herein do not reflect the views and opinions of Rigzone. All comments are subject to editorial review. Off-topic, inappropriate or insulting comments will be removed.