Crude Oil Continues Ascent
by Matthew V. Veazey
|
Rigzone Staff
|
Friday, January 04, 2019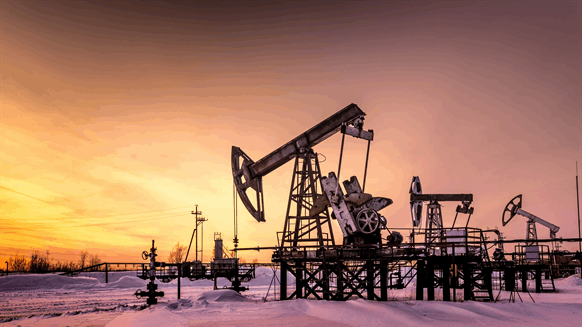 Bullish sentiment in the crude oil market for the initial trading days of 2019 continues.
Bullish sentiment in the crude oil market for the initial trading days of 2019 continued Friday.
The February West Texas Intermediate (WTI) futures price traded as high as $49.22 a barrel before settling at $47.96, reflecting an 87-cent gain for the day. The intraday low for the contract was $46.65. Brent crude oil for March delivery rose $1.11 Friday to settle at $57.06 a barrel.
"WTI and Brent managed to start off the New Year with substantial gains over the first three days of the year," said Tom Seng, Assistant Professor of Energy Business with the University of Tulsa's Collins College of Business. "That momentum carried into today with WTI cresting the $49 mark, the highest in 11 trading days and a gain of almost 10 percent for the week."
On a technical level, the WTI never touched its critical support level of $40 despite flirting with lows near $42 on Wednesday, Seng noted.
"Trading volumes have picked up as the new fiscal year has begun with mostly buying occurring," Seng continued. "That has moved the February WTI NYMEX futures contract into more of a 'neutral' position in terms of 'overbought/oversold' conditions. As of today, WTI is trading below its 20-day moving average ($50.10), above its 10-day moving average of $45.85 and above its five-day moving average of $46.45. The Brent/WTI spread has increased to around $8.80."
Seng also pointed out that surging equities and other factors contributed to the ongoing positive momentum for crude oil. "A higher U.S. stock market and a lower U.S. Dollar Index helped push crude higher today as well," he said. "Brent followed a similar pattern, nearing a low of $52.50 on Wednesday and moving beyond $57 today."
The stock market on Friday rallied following a strong U.S. jobs report and positive comments from Federal Reserve Chair Jerome Powell, Seng added. He also noted, however, that the specter of slow global economic growth indicators – particularly in China – and concerns about a glut of crude oil continued to hang over the oil market for much of the past week.
Friday's holiday-delayed Weekly Petroleum Status Report from the U.S. Energy Information Administration (EIA) also provided some support for crude oil, Seng observed.
"(T)here was, for the second straight week, literally no addition to U.S. crude inventories," Seng pointed out. "However, total commercial inventories are now eight percent above the five-year average for this time of year. Inventory at the key Cushing, Okla., trading hub did see an increase of about 640,000 barrels while refinery utilization increased to a seasonally strong level of 97 percent … U.S. crude oil production remains near its record level of 11.7 million barrels per day while the oil rig count declined by eight last week."
The price of a gallon of reformulated gasoline (RBOB) often moves in the same direction as crude oil, but it took a slight turn from that path on Friday. February RBOB futures fell by less than a penny to end the day at $1.35.
After spending the first two trading days of the new year below the $3 mark, Henry Hub natural gas managed to settle above that threshold Friday. The February contract price gained 10 cents to end the day at $3.04.
"A meager withdrawal from storage last week of 20 billion cubic feet (Bcf) has left total inventory at 2.705 trillion cubic feet and lessened the deficit to the five-year average to 17 percent while the year-ago gap decreased to 14 percent," said Seng. "Dry production last week decreased to 87.2 Bcf per day (Bcf/d) while consumption fell to 96 Bcf/d, with the biggest drop occurring in the residential/commercial sectors."
Seng added that gas exports to Mexico amounted to 4.5 Bcf/d last week while liquefied natural gas exports decreased to 4.2 Bcf/d. He also noted that last week's pipeline fuel usage and losses figure was 6.9 Bcf/d on decreased pipeline throughputs.
"Look for next week's storage report to show a strong drawdown due to the cold weather that moved across the U.S. this week," Seng predicted. "While trading at its five-day moving average, February natural gas is still well below its 10-day and 20-day moving averages and remains oversold on average volumes traded."
Generated by readers, the comments included herein do not reflect the views and opinions of Rigzone. All comments are subject to editorial review. Off-topic, inappropriate or insulting comments will be removed.