Crude Gets Lift from VLCC, Drone Attack Reports
by Matthew V. Veazey
|
Rigzone Staff
|
Thursday, July 26, 2018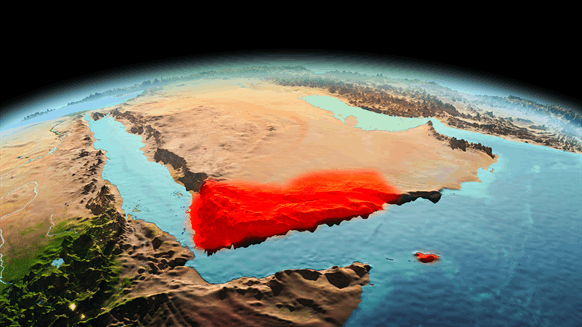 A pair of actions, one actual and another suspect, by Yemeni rebels helped to lift crude oil benchmark prices.
A pair of actions, one actual and another suspect, by Yemeni rebels against targets in the Middle East helped to lift crude oil benchmark prices Thursday.
"You've got these geopolitical situations heating up a bit in that area," Bob Yawger, director of the Futures Division with Mizhuo Americas, told Rigzone.
As S&P Global Platts reported Thursday, Saudi Arabia ceased all crude oil shipments through the Bab el-Mandeb strait – located the southern tip of the Red Sea – after Yemeni Houthi militants attacked a pair of Saudi very large crude carriers (VLCCs).
"While not as well-transited as the nearby Strait of Hormuz, Bab e-Mandeb is nonetheless a critical chokepoint for oil shipments, with some 4.8 million barrels per day of crude and passing through in 2016, according the US Energy Information Administration," S&P Global Platts stated.
The September WTI futures price gained 31 cents Thursday, settling at $69.61 per barrel after trading within a range of $68.92 to $69.92. The Brent price rose 61 cents, settling at $74.54 a barrel. The price during Thursday's trading ranged from $73.78 to $74.82.
Although the attack on the VLCCs got the attention of oil traders, Yawger told Rigzone that the Saudis likely have a land-based alternative to ship crude oil to foreign markets via the Suez Canal. He explained that Saudi Aramco's East-West oil pipeline system runs parallel to the Red Sea and is currently transporting only using approximately 2 million barrels per day of its 5 million barrel per day capacity.
"The Saudis definitely have spare capacity along the Red Sea," said Yawger. "They have options."
Also affecting oil markets were claims by Houthis that they attacked Abu Dhabi's airport with a drone, but media reports stated that United Arab Emirates officials have denied such an incident occurred. Meanwhile, the Abu Dhabi Airport confirmed on its Twitter feed that "an incident involving a supply vehicle" occurred at the airside area of the airport's Terminal 1 at approximately 4 p.m. local time. The airport went on to say that the incident did not affect operations and that flights continued to arrive and depart as scheduled.
"There's been a pretty good blend of information for the oil markets to digest," Yawger said.
For natural gas, the Henry Hub futures price for August delivery settled at $2.78. August reformulated gasoline settled at $2.16 a gallon.
Generated by readers, the comments included herein do not reflect the views and opinions of Rigzone. All comments are subject to editorial review. Off-topic, inappropriate or insulting comments will be removed.