Corpus Christi Port Project Nears Funding Halfway Point
|
Monday, November 26, 2018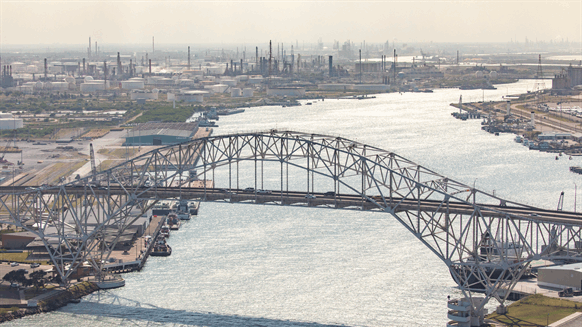 The Corpus Christi Ship Channel Improvement Project will cost an estimated $360 million.
Nearly one-half of the $360 million needed to widen and deepen the Corpus Christi Ship Channel to accommodate greater energy export volumes from Texas' Coastal Bend region has been secured, the Port of Corpus Christi reported Monday.
"The inclusion of additional Work Plan funds is yet another significant milestone toward the United States becoming a net exporter of its energy production," Sean Strawbridge, CEO for the Port of Corpus Christi, said in a written statement.
Strawbridge was referring to the inclusion of an extra $59 million for the Corpus Christi Ship Channel Improvement Project (CIP) that the U.S. Army Corps of Engineers (USACE) has budgeted in its Fiscal Year 2019 Work Plan. With the latest USACE decision, total federal appropriations for the CIP now stand at $95 million, the port authority stated. In addition, the port noted that total secured CIP funding – including $78 million of the port's own funds – presently amounts to $173 million.
The federal government will shoulder $230 million of the estimated $360 million to complete CIP and the port will cover the remaining $130 million, the port authority stated. According to the port website, the full CIP project entails:
Extending the La Quinta Ship Channel approximately 1.4 miles (completed)
Deepening the extension to 47 feet (completed)
Constructing ecosystem restoration features (in progress)
Widening the Corpus Christi Ship Channel (CCSC) to 530 feet from Port Aransas to the Harbor Bridge (pending)
Deepening the CCSC from 47 to 54 feet (pending
Adding 200-foot-wide barge shelves across Corpus Christi Bay (pending)
"Widening and deepening the Corpus Christi Ship Channel is a mathematical certainty," stated Strawbridge. "Energy markets are taking notice as the majority of incremental U.S. energy production is coming to Corpus Christi and ultimately to the global markets. We expect over two to three million barrels per day of new crude production coming our way, and our energy producing and marketing customers know we are building out all the necessary infrastructure to handle these new volumes, safely and responsibly."
Generated by readers, the comments included herein do not reflect the views and opinions of Rigzone. All comments are subject to editorial review. Off-topic, inappropriate or insulting comments will be removed.