Corona Virus Hits Oil Demand and Prices
|
Tuesday, February 18, 2020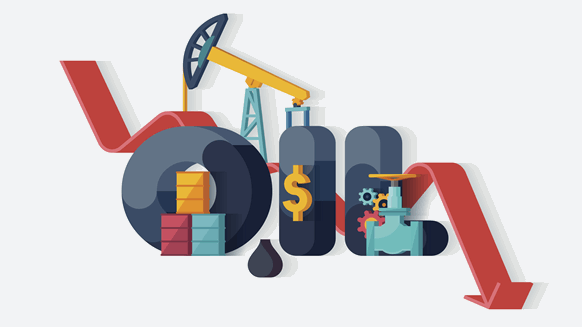 Analysts around the world are slashing demand forecasts for 2020.
The full impact of the corona virus – which has infected about 14,000 people and killed over 400 (as of Feb. 4) -- on world oil and gas markets is only slowly becoming clear. The cancellation of flights within, into and out of China is cutting jet fuel demand in China and around the world, while Chinese refiners are experiencing a sharp fall in demand for diesel and gasoline from industry and transport sectors as travel bans continue and economic activity slows. The economic fallout could produce a wider regional impact on demand across east Asia, and if there is any widespread infection elsewhere, the impact will be even greater – the World Health Organisation declared an international emergency on Jan. 30th but does not yet see it as a global pandemic.
All this has sent oil prices tumbling, despite heightened tensions in the Mideast, a tightly adhered-to OPEC-plus deal and the shut-in of about 1mn b/d of Libyan output due to civil unrest. Brent has moved into contango (where forward prices are higher than current levels) as prompt demand weakens, and analysts around the world are slashing demand forecasts for 2020. Product prices are also taking a hit as demand falls, narrowing crack spreads and refining margins, especially in Asia. LNG prices too, already at record lows, are coming under further downward pressure.
"The ongoing coronavirus outbreak and subsequent large-scale quarantine measures are posing a major economic risk to China and beyond," said Yujiao Lei of Wood Mackenzie, with jet fuel (currently with demand of about 8mn b/d globally) hardest hit. She said the experience during the 2003 SARS outbreak suggested a severe and one-off impact on jet fuel demand and, to a lesser degree, gasoline and diesel. But the corona outbreak already looks to be more damaging than SARS, with travel and economic activity (which is far higher in China now than in 2003) more severely hit and considerable uncertainty as to when the situation might improve; Hubei Province, where the disease epicentre of Wuhan is located, alone accounts for over 4% of China's GDP and remains in lockdown, with other restrictions in place across the country and no clear idea of when such measures will end.
Early Feburary reports suggested a fall in Chinese demand of 20% in January, equating to 2-3mn b/d or 2-3% of global demand. That could be higher still in February and if sustained would put further downward pressure on crude prices. In recent weeks analysts lowered their forecasts for China's refinery throughput in February and March by 600,000-1 million b/d (although given the latest demand indications, this may already be out of date), with crude oil imports set to slow down accordingly in April and May – February and March deliveries are already on route, which means a likely significant unplanned build in crude stocks.
As a result of the price falls, OPEC brought forward its next meeting from early March to Feb. 14, when it was looking at extending existing production cuts to offset the weaker demand and support prices, with the possibility of further cuts on top. But by Feb. 17, hopes for an OPEC+ emergency meeting on the virus faded, while investors assessed Chinese stimulus measures to soften the outbreak's economic impact. OPEC and its 10 allies agreed in December to implement 1.7 million b/d of production cuts for the first three months of 2020. The fall in Libyan output means the group has already effectively implemented additional cuts of almost 1mn b/d, which should go some way to balancing the shortfall in demand.
Overall, most analysts had expected global demand to rise by about 1.2mn b/d in 2020, but it now looks like this could be significantly lower – with most now anticipating a hit of at least 2mn b/d in February and March. Price forecasts too, are being lowered. But the market won't know the real impact until weeks from now, depending on how well the outbreak is contained.
Jeremy Bowden is a freelance journalist, writer and editor, specialising in the energy sector, although he also writes on health, parenting, economics, finance and the auto industry. He serves a variety of clients across the world, with work ranging from features and interviews, to in-depth reports and public relations material.
Generated by readers, the comments included herein do not reflect the views and opinions of Rigzone. All comments are subject to editorial review. Off-topic, inappropriate or insulting comments will be removed.