ConocoPhillips to Divest Some Australia Assets
|
Monday, October 14, 2019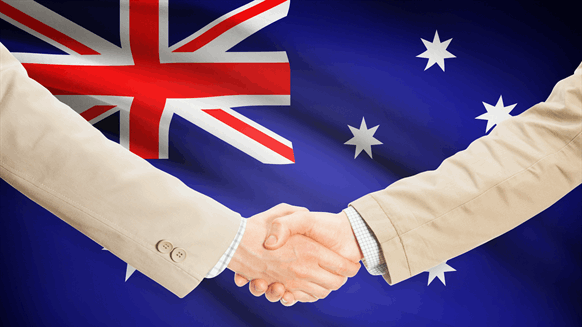 ConocoPhillips has agreed to sell the subsidiaries holding its Australia-West assets and operations to Santos Limited for US$1.39 billion.
ConocoPhillips reported Sunday that it has agreed to sell the subsidiaries holding its Australia-West assets and operations to Santos Limited for US$1.39 billion, plus closing adjustments.
The Australia-West assets include ConocoPhillips' 37.5-percent interest in the Barossa project and Caldita Field, its 56.9-percent stake in the Darwin LNG facility and Bayu-Undan Field, its 40-percent ownership of the Poseidon field and its 50-percent interest in the Athena Field, ConocoPhillips noted in a written statement emailed to Rigzone.
"We are extremely proud of our work in Australia-West over the 20 years," noted Matt Fox, ConocoPhillips' executive vice president and chief operating officer. "We are pleased that Santos recognizes the value of the existing business as well as the opportunity to develop Barossa and thereby continue Darwin LNG's operations for another 20-plus years. While we believe the Darwin LNG backfill project remains among the lower cost of supply options for new global LNG supply, this transaction allows us to allocate capital to other projects that we believe will generate the highest long-term value to ConocoPhillips."
ConocoPhillips stated the assets being sold produced approximately 50,000 barrels of oil equivalent (boe) per day for the first half of 2019. Moreover, the company noted the assets' proved reserves were roughly 39 million boe at the end of 2018. The 2019 production mix from the Australia-West subsidiaries amounts to 12 percent oil, eight percent natural gas liquids and 80 percent natural gas, according to a ConocoPhillips slide deck.
"These assets are well known to Santos," Kevin Gallagher, Santos' managing director and CEO, said in a separate written statement issued by his company. "It also continues to strengthen our offshore operating and developing expertise and capabilities to drive growth in offshore northern and Western Australia."
Gallagher also noted the acquisition supports Santos' goal of taking a final investment decision (FID) on developing the Barossa Field by early 2020. In addition, he stated Santos is in talks with existing Darwin LNG joint-venture partners to sell equity in Barossa and further equity in Darwin LNG and also with LNG buyers for offtake volumes.
"Santos will target the contracting of approximately 60 to 80 percent of LNG volumes for 10-plus years prior to taking FID on Barossa," he said. "Discussions to date have demonstrated strong interest in Barossa LNG, given it is a brownfield upstream development located close to North Asian demand."
In addition, Gallagher called the acquisition "value accretive for Santos shareholders" and pointed out it lowers the company's free cash flow breakeven oil price by approximately US$4 per barrel in 2020.
In a fact sheet provided to news media, ConocoPhillips stated the transaction includes the Australia-West Business Unit (ABUW) workforce and offices in Perth, Darwin and Timor-Leste. The company added the sale excludes its Australia East Business Unit and that it will continue to own a 37.5-percent interest in and operatorship of the Australia Pacific LNG project on Curtis Island.
Moreover, ConocoPhillips stated that work will continue as planned on the operations and work on the Barossa, Darwin Life Extension and Bayu-Undan decommissioning projects. Also, it noted contracts that support Australia-West and are with the companies being sold will remain in place. Contract terms and scopes of work will be unaffected by the sale, ConocoPhillips added.
"We look forward to welcoming ConocoPhillips' Australia-West employees to Santos and combining the two businesses to create one high-performing team with a wide range of exciting career opportunities across Santos," Gallagher stated.
According to ConocoPhillips, the effective date for the transaction will be Jan. 1, 2019. The company noted the sale, which is subject to regulatory approval other conditions, should conclude during the first quarter of 2020.
To contact the author, email mveazey@rigzone.com.
Generated by readers, the comments included herein do not reflect the views and opinions of Rigzone. All comments are subject to editorial review. Off-topic, inappropriate or insulting comments will be removed.