ConocoPhillips Extends Bristow Contracts
|
Wednesday, February 12, 2020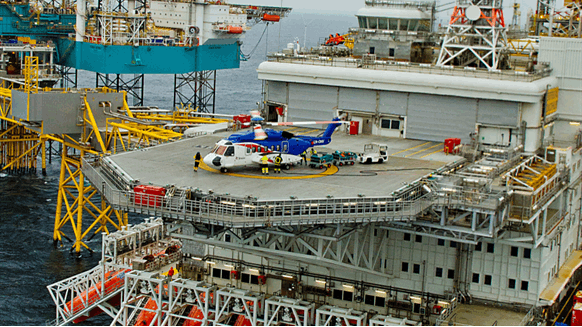 This photo shows a Bristow S-92 aircraft on the ramp at ConocoPhillips' Ekofisk platform in the North Sea. PHOTO SOURCE: Bristow Group, Inc.
ConocoPhillips has extended two contracts with Bristow Group, Inc. for air transportation crew change and shuttle/search and rescue (SAR) services for the Greater Ekofisk Area in the North Sea, Bristow reported Tuesday.
According to a Bristow written statement emailed to Rigzone, the contracts went into effect on Sept. 1, 2014, and will now run through Aug. 31, 2024, as a result of ConocoPhillips exercising its first contract option for the air transport and SAR agreements. Additional option years are available, Bristow also stated.
Bristow noted that it will use two Sikorsky S-92 all-weather SAR service helicopters based at the ConocoPhillips Ekofisk Lima platform, which is located approximately 160 nautical miles from Stavanger Airport in Sola, Norway. The offshore aviation firm added that its main base at Stavanger Airport will also continue to use three oil and gas-configured S-92 helicopters for crew change flights to and from the Ekofisk field.
To contact the author, email mveazey@rigzone.com.
Generated by readers, the comments included herein do not reflect the views and opinions of Rigzone. All comments are subject to editorial review. Off-topic, inappropriate or insulting comments will be removed.