ConocoPhillips Awards FPSO Contract
|
Wednesday, October 30, 2019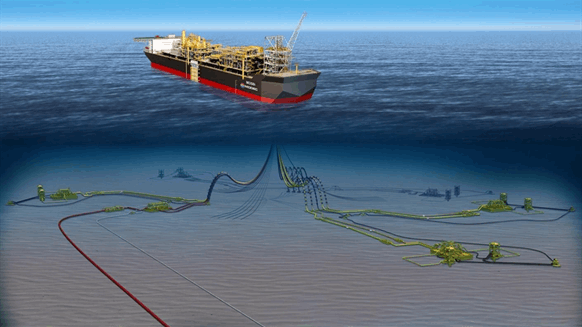 Pictured is a rendering of the Barossa FPSO. IMAGE SOURCE: MODEC
ConocoPhillips Australia reported Wednesday that it has awarded MODEC International Inc. an engineering, procurement, construction and installation (EPCI) contract for the Barossa floating production, storage and offloading (FPSO) facility.
MODEC will deliver a newbuild FPSO that will be permanently located 186 miles (300 kilometers) north of Darwin, Australia, Barossa operator ConocoPhillips Australia noted in a written statement emailed to Rigzone. Like ConocoPhillips Australia, SK E&S Australia Pty Ltd owns a 37.5-percent interest in the Barossa joint venture (JV). Santos Offshore Pty Ltd. owns the remaining 25 percent in the JV.
"This is the largest and most significant contract to be awarded for the Barossa Project and a significant milestone in moving closer to a final investment decision (FID) in early 2020," noted Chris Wilson, president of ConocoPhillips Australia-West. "It is a testament to the hard word by our project team and major contractors following the successful completion of the front-end engineering and design effort."
The ship-shape hull facility that MODEC will deliver will be capable of processing dry lean gas for export via pipeline to Darwin and storing condensate for periodic offloading to tankers, ConocoPhillips Australia noted. Dimensions for the FPSO will include a length of approximately 1,161 feet (354 meters), a width of 210 feet (64 meters) and a topsides weighing approximately 34,400 tonnes, the company stated. Also, it noted the vessel will be able to accommodate up to 140 personnel.
According to MODEC, the Barossa FPSO – its largest "Gas FPSO" to date – will be capable of exporting more than 600 million standard cubic feet of gas per day and store up to 650,000 barrels of condensate for export. In addition, the contract recipient stated the vessel will for the first time apply MODEC's next-generation "M350 Hull." Dalian Shipbuilding Industry Co., Ltd. (DSIC) will build the double hull in Dalian, China, MODEC added.
"This contract award of a Gas FPSO reinforces one of our important business strategies, which we aim to penetrate into gas-related market," MODEC President and CEO Yuji Kozai said in a written statement. "Also this new contract represents a significant milestone for MODEC in applying our next-generation new built FPSO hull design of which we have developed to meet the new market demands for larger FPSOs."
The Barossa Project – subject to commercial arrangements being agreed upon – would provide a new source of natural gas to the Darwin LNG facility when the current offshore gas supply from the Bayu-Undan field is exhausted, ConocoPhillips Australia stated. The company explained the offshore development concept includes:
the FPSO facility
subsea wells and subsea production system
a 162-mile (260-kilometer) gas export pipeline tying into the existing Bayu-Darwin Pipeline
The Barossa JV operator added the entire development would be located in Commonwealth waters.
"FID is progressing according to plan while we continue working collaboratively with Santos to finalize transitional arrangements and close the sale of our Australia-West assets," commented Wilson.
As Rigzone reported earlier this month, Santos is acquiring ConocoPhillips' Australia-West assets and operations in a US$1.39 billion deal. The assets include ConocoPhillips':
37.5-percent interest in the Barossa project and Caldita Field
56.9-percent stake in Darwin LNG and Bayu-Undan Field
40-percent ownership of the Poseidon Field.
50-percent interest in the Athena Field.
Santos, which stands to gain operatorship of the above assets under the deal, noted the FPSO facility represents the largest Barossa contract.
"This contract with MODEC is the result of a FEED (front-end engineering design) competition and its award is the biggest step towards pushing the button on the development of Barossa," Kevin Gallagher, Santos' managing director and CEO, remarked in a separate written statement from his company. "The project is technically and commercially robust, and we are closing in on FID early in the new year, with contract for the subsea umbilicals, flowlines and drilling of six subsea production wells to be awarded in the near future."
The Barossa FPSO is slated for delivery in 2023, MODEC noted.
To contact the author, email mveazey@rigzone.com.
Generated by readers, the comments included herein do not reflect the views and opinions of Rigzone. All comments are subject to editorial review. Off-topic, inappropriate or insulting comments will be removed.