Collegiate Oil and Gas Program Goes Well Beyond 'Drill, Baby, Drill''
by Matthew V. Veazey
|
Rigzone Staff
|
Wednesday, June 27, 2018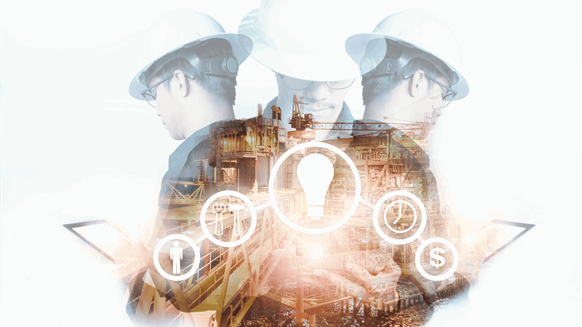 ASME oil and gas tour enlightens mechanical engineering students about industry's reach, say alums.
Recently, Rigzone highlighted efforts by a unit of the American Society of Mechanical Engineers (ASME) to attract North American mechanical engineering students to careers in the oil and gas industry. The article features the insights of two individuals who help to run the Collegiate Council (CC) program that ASME's Petroleum Division (PD) sponsors.
Now, Rigzone has obtained the perspectives of a pair of recent program recipients: Texas-based mechanical engineers Ahmed Jalal and Andres E. Fals, who completed CC earlier this decade. Read on for their take on what they gained from CC – including, in one case, seeing the oil and gas industry beyond the lens of a political slogan.
Rigzone: What preconceived notions did you have about working in the oil and gas industry before your involvement with CC?
Ahmed Jalal
Jalal: Prior to being involved with the Collegiate Council, I was not exposed to the oil and gas industry. Both my parents work in different fields, and none of my relatives have experience in the industry. However, I have always lived in cities where the economics were governed by oil and gas prices like in Riyadh, Dubai or Houston. One thing I knew is that the oil and gas industry plays a large role in the overall standard of living.
I always thought that oil and gas was all about "Drill, Baby, Drill" and that it was a political game more than a way of satisfying consumer needs. I was not exposed to the variety of the other areas that are involved in the full operations from upstream to downstream.
Fals: Growing up to petroleum engineer parents, more than preconceived notions there was a lack of realization as to the amount of effort put in place to make oil and gas a healthy, safe and environmentally conscious industry. There is more than what I heard from my parents, see on TV and even read in class – the Collegiate Council is an excellent eye-opening experience.
Rigzone: How did your experience change your perception of oil and gas careers and the industry in general?
Fals: Immensely! It is easy to forget that oil and gas is more than drilling holes on rigs – this is a well-diversified industry with cutting-edge technology at every step of the supply chain. Thus, it is not surprising that there is a great need for human capital for any and all areas – regardless of one's professional preferences and interests, there is a place for you.
Andres E. Fals
Jalal: Being a part of the ASME collegiate council changed my perception largely and exposed me to the myriad of different careers that can be pursued in the industry.
Firstly, having direct contact with industry professionals who had experience in multiple aspects provided me with an opportunity to ask questions and learn on a personal and professional level. They always shared their knowledge, stories and lessons learned from past experiences.
Secondly, going on tours to facilities that are involved in the oil and gas industry opened my eyes to the level of advanced engineering and project management that goes into some of the projects. From Baker Hughes' drill bit manufacturing facility to some of the onshore rigs in the Permian Basin, the tours were unforgettable.
Thirdly, being surrounded by like-minded students who share the same passion for engineering was a great experience in building friendships and a professional network.
1
2
View Full Article
Generated by readers, the comments included herein do not reflect the views and opinions of Rigzone. All comments are subject to editorial review. Off-topic, inappropriate or insulting comments will be removed.