Coast Guard Okays LNG Bunkering Vessel Design
|
Tuesday, February 25, 2020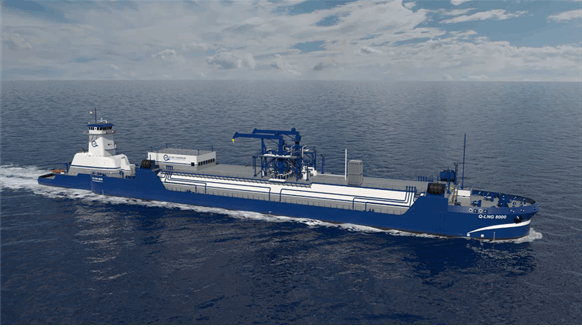 Above is a rendering of a Q-LNG ATB vessel designed to carry 8,000 cubic meters of LNG. IMAGE SOURCE: Harvey Gulf International Marine
The U.S. Coast Guard (USCG) has granted Quality Liquefied Natural Gas Transport (Q-LNG) design basis acceptance and regulatory approvals to advance construction of two larger versions of its articulated tug and barge (ATB), Harvey Gulf International Marine reported Monday.
Harvey Gulf manages Q-LNG, which is wholly owned by Harvey Gulf CEO Shane Guidry.
Under construction at the VT Halter shipyard in Pascagoula, Miss., and slated for delivery this summer, a 4,000-cubic-meter capacity version of the ATB will be able to provide bunkering services to cruise ships, tankers and container ships fueled with LNG, according to Guidry. The recent USCG action enables Q-LNG to proceed with construction of larger ATB variants: one designed to carry 5,400 cubic meters of LNG and another 8,000 cubic meters.
"As an industry leader we are committed to continued support of the cruise and broader maritime industry in North America and abroad," Guidry commented in a written statement emailed to Rigzone. "This new project will closely mirror the current vessel under construction by utilizing a significant amount of the design and engineering details, applying all lessons and efficiencies learned from the 4,000-cubic-meter ATB. Q-LNG will be able to deliver the follow-on designs in a shorter period of time at a highly competitive price."
According to Harvey Gulf, the design basis letter (DBL) approvals from USCG will allow Q-LNG to contribute to developing LNG fueling infrastructure in North America. It stated that Q-LNG will own and operate the ATB assets to provide marine transportation of LNG to various Atlantic Coast, Caribbean and U.S. Gulf of Mexico ports. Moreover, it noted the ATB will meet U.S. Flag, ABS Class and International Gas Carrier Code requirements.
"By working with current equipment suppliers we are able to leverage efficiencies and ensure competitive pricing, while positively impacting vessel construction, delivery and reliability during operation," remarked Guidry. "Major cruise, tanker and container ship operators are continuing their commitment to build and deliver LNG-powered ships to the market, and Q-LNG is ready to meet the challenge. We will deliver the safest, most cost-effective and most technologically advanced solutions to the maritime industry."
To contact the author, email mveazey@rigzone.com.
Generated by readers, the comments included herein do not reflect the views and opinions of Rigzone. All comments are subject to editorial review. Off-topic, inappropriate or insulting comments will be removed.