CB&I, Chevron Lummus Global, Saudi Aramco Launch 'Crude-to-Chemical' JV
|
Thursday, January 18, 2018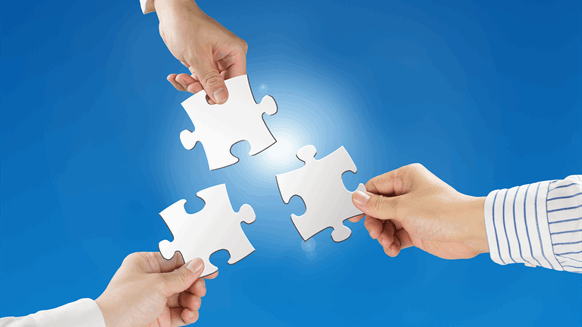 Three-way agreement is 'technological first,' says Saudi Aramco president.
CB&I, Saudi Aramco's Saudi Aramco Technologies unit and CB&I-Chevron U.S.A. Inc. joint venture Chevron Lummus Global (CLG) announced Thursday that they have signed a three-party joint development agreement (JDA) to develop, commercialize and market processes to produce high-value petrochemicals from crude oil.
According to CB&I, the platform for the "crude-to-chemical" joint venture will integrate CB&I's ethylene cracker technology, CLG's hydroprocessing technologies and Saudi Aramco's Thermal Crude to Chemicals (TC2CTM) technologies. Saudi Aramco noted that TC2CTM, which will be scaled up and commercialized under the JDA, enables higher chemicals yield than previously achievable and bypasses conventional refining steps by using a proprietary direct conversion process.
"It is an honor to partner with Saudi Aramco to develop the most competitive processing solution for crude to chemicals," CB&I Executive Vice President of Technology Daniel M. McCarthy said in a written statement. "There is a lot of attention in the market to more efficiently produce higher value petrochemical products such as ethylene, propylene, butadiene and aromatics directly from crude oil. CB&I and CLG's breadth of technologies and catalysts are unmatched in the industry, spanning essentially all relevant refinery and petrochemical processes, which provide a strong foundation for this joint development."
In a separate statement, Saudi Aramco President Amin H. Nasser described the JDA as pioneering.
"Saudi Aramco is going beyond the quick wins and is instead prioritizing investments in groundbreaking R&D and technology," Nasser said, adding that the JDA bolster's Saudi Arabia's "Vision 2030" economic diversification and job creation plan. "Today's Joint Development Agreement with CB&I and CLG is a technological first which will position Saudi Aramco to maximize the value of each barrel of crude oil it produces in the near future."
Ahmad A. Khowaiter, Saudi Aramco's chief technology officer, added that the partnership will support Saudi Arabia's "efforts toward industrial diversification, job creation and technology leadership … through downstream conversion of chemicals."
CLG's managing director, Leon de Bruyn, remarked the JDA enjoys a "strong foundation" via his company's hydroprocessing technologies, CB&I's ethylene cracker technology and Saudi Aramco's thermal crude-to-chemicals technology.
"We are excited to be partnering with Saudi Aramco and making a positive impact on our industry by demonstrating an innovative approach to crude to chemicals," de Bruyn said.
Thursday's JDA is the latest crude-to-chemicals deal for Saudi Aramco. On Nov. 26, 2017, the company reported that it signed a memorandum of understanding with SABIC to develop a fully integrated crude oil to chemicals (COTC) complex in the Kingdom. At the time, Saudi Aramco stated the COTC complex will be capable of processing 400,000 barrels per day of crude oil and produce approximately 9 million tons of chemicals and base oils per year. The complex is slated to begin operations in 2025.
Generated by readers, the comments included herein do not reflect the views and opinions of Rigzone. All comments are subject to editorial review. Off-topic, inappropriate or insulting comments will be removed.