Canada LNG Project Developers Trim List of FEED Contenders
|
Tuesday, January 30, 2018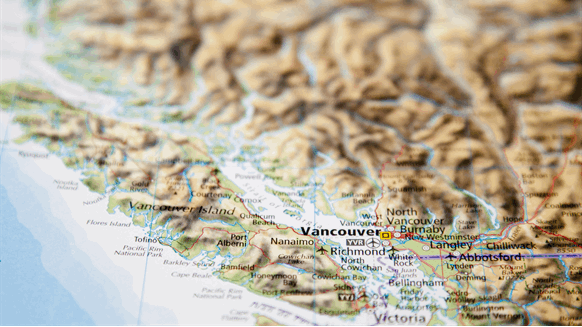 Four EPC bidders advance to next round for Vancouver Island project.
Four engineering, procurement and construction (EPC) contractors have advanced to the shortlist of bidders vying to perform front-end engineering and design (FEED) work on the proposed Kwispaa LNG project in British Columbia, Steelhead LNG and Huu-ay-ah First Nations announced Monday.
"Our Expression of Interest process attracted a number of proposals from leaders in LNG facilities engineering, procurement and construction," said Alex Brigden, Steelhead LNG's vice president, technical, in a written statement. "We are very pleased to have these internationally recognized EPC contractors compete to provide their expertise as we continue to progress the Kwispaa LNG project into FEED."
EPC contractors making it to the next round of consideration include:
Black & Veatch / Samsung Heavy Industries / PCL Industrial Management Inc.
CB&I / Offshore Oil Engineering Co., Ltd (COOEC)
KBR
TechnipFMC
Steelhead LNG stated that invitations to tender should be issued during Second Quarter 2018. Afterward, the project developers will select two successful bidders to carry out the FEED phase beginning in the subsequent quarter. The Kwispaa LNG FEED includes "At-Shore LNG" topsides, onshore power station, pre-treatment and balance of plant components, according to Steelhead LNG.
Brigden also pointed out that Hyundai Heavy Industries has been provisionally nominated at the hull fabrication contractor for EPC of two At-Shore LNG hulls – representing a total value of approximately US$500 million – to support Kwispaa LNG's initial production capacity. According to Steelhead, each At-Shore unit will boast up to 6 mtpa of LNG production capacity with approximately 280,000 cubic meters of integrated LNG storage. Hyundai Heavy will collaborate with successful EPC contractors to execute FEED studies, the company added.
Proposed for a location on Huu-ay-aht First Nations land at Sarita Bay on the west coast of Vancouver Island, Kwispaa LNG is licensed to export up to 24 million tonnes per annum (mtpa) of LNG for 25 years. The project, originally proposed under the name "Steelhead LNG," will receive natural gas supplies from northeastern British Columbia and northwestern Alberta via new and existing pipelines. It is slated to begin initial production of 12 mtpa in 2024, according to Steelhead LNG, which is co-developing the project with the Huu-ay-aht First Nations.
Generated by readers, the comments included herein do not reflect the views and opinions of Rigzone. All comments are subject to editorial review. Off-topic, inappropriate or insulting comments will be removed.