Can the Mexican Government's Bailout Solve the Pemex Crisis?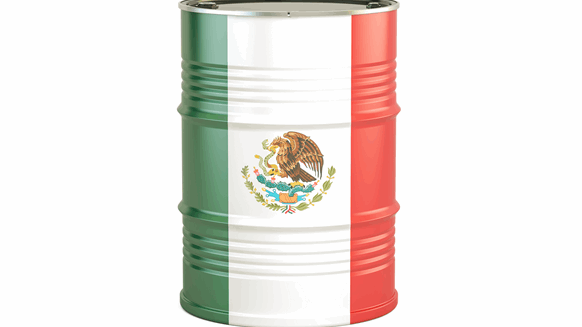 Some of Pemex's challenges have been historically rooted in oil production declines and oil thefts.
This opinion piece presents the opinions of the author or authors.
It does not necessarily reflect the views of Rigzone.
In response to Fitch Group's & Moody's downgrade of Pemex's credit rating to one notch above junk, Mexico's government recently pledged a $3.9-billion capital injection and $200 million in tax relief, according to international media reports. This bailout package and the six-year business plan aims to help reverse Pemex's credit downgrade, help control its USD $106 billion debt, boost cash flow, and increase crude production.
Pemex's exploration budget in 2019 will be doubled to $2.5 billion. This could enable Pemex to fast-track development of 20 new fields around the southern rim of the Gulf of Mexico and raise output to 1.8 million barrels a day by year-end. To raise oil production to 2.6 million barrels a day by the end of 2024, the exploration budget will increase by 10 percent in coming years.
To reduce Mexico's reliance on expensive light oil imports from the United States, Pemex's six existing refineries will be modernized and it plans to build an $8-billion refinery at Dos Bocas in the state of Tabasco on the Gulf of Mexico coast. The refinery will be Mexico's largest with a crude processing capacity of 340,000 barrels a day.
Systemic and chronic problems
Pemex's problems stem largely from falling oil production, state capture by vested interests, mismanagement and oil thefts. Crude output has declined every year since its 2004 peak of 3.4 million barrels a day to a record low of just 1.62 in January according to February 2019 reports from Reuters. Falling sales contributed to a $7.5-billion loss in 2018.
Pemex is hamstrung as an arm of the government. As energy consultant Gonzalo Monroy notes, "Pemex was never designed to be a company. It was conceived as the executive arm of Mexico's oil policy." Typically, 95 percent of Pemex's pre-tax profits have been diverted into government coffers at the expense of capital expenditure on exploration, production and oilfield maintenance. To compound the company's difficulties, the new Mexican President has placed his political ally Octavio Romero, an agronomist with no experience of energy, in charge.
There is also mismanagement, seen in costly diversification into fertilizer plants, electricity generation and refineries which has diverted cash from its core business, leaving it with ageing shallow water oil and gas fields and insufficient capital and technology to exploit Mexico's deepwater fields in the Gulf.
Prospects
Both financial and industry experts doubt whether the government's bailout and the company's investment plan will be sufficient to enable the company to meet increasing crude production targets or to significantly reduce the country's reliance on ever-increasing imports of refined oil product.
Despite the bailout, capital will remain in short supply. The doubling of Pemex's exploration budget to $2.5 billion, whilst greater than BP's $2.1 billion and more than double that of Eni, Equinor or Total, may not be sufficient to restore "left-behind" Pemex to its former glory. The company will have neither sufficient capital, technology nor knowledge to explore and develop lucrative, but risky oil assets in Mexico's deep waters of the Gulf. However, there might just be an opportunity to recover some of its lustre. Two discoveries by foreign oil companies in shallow waters in 2017 demonstrate that there remains significant oil in shallow waters.
Furthermore, there are few signs that the endemic problems of corruption, high labour costs, and fuel theft, which cost Pemex some $1.25 billion a year, are being addressed. As Rudolf Huber, President LNG Austria, observes, "Pemex is a dinosaur from another time, a patronage machine that's ossified to the core. This is not an efficient company and if Mexico is smart about it, it lets it die and allows private companies to do the O&G thing."
Lastly, the lack of an internationally recognized oil veteran at the helm, fears of a slowdown in energy reforms with the halting of oil tenders and the government's refinery plans continue to invite investors' skepticism.
Generated by readers, the comments included herein do not reflect the views and opinions of Rigzone. All comments are subject to editorial review. Off-topic, inappropriate or insulting comments will be removed.