Brexit Deal Would be Best Result for Oil, Gas
by Caterina Dassié
|
Rigzone Contributor
|
Tuesday, April 09, 2019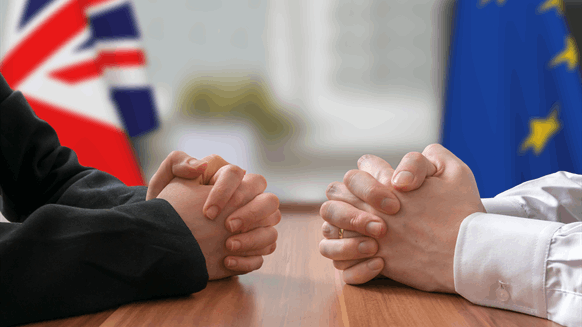 A deal with the EU could still happen, although a no-deal Brexit is also a realistic possibility.
Although the UK is now officially set to leave the EU on April 12, the UK Government is still unsure about the Brexit path it will take. A deal with the EU could potentially still be agreed, although a no deal Brexit is also a realistic possibility.
While politicians in Westminster are struggling to see eye to eye, the UK oil and gas industry is maintaining its stance that it wants to see a deal.
"We continue to make the case that a deal outcome is preferable," Oil & Gas UK (OGUK) stakeholder and communications director Gareth Wynn told Rigzone.
"Any delays to the process should be used constructively to seek a deal outcome which delivers the priorities identified by our industry," he added. "A deal outcome is in the best interests of this industry, which is critical for security of energy supply and supports hundreds of thousands of skilled jobs right across the UK."
While OGUK remains focused on securing a deal outcome "which delivers [the] industry's key priorities", it has "engaged extensively" with its members on the implications of a no-deal scenario, according to Wynn.
"This has included workshops with cohorts of members including the supply chain, engagement with political stakeholders and ongoing work to ascertain specific concerns," Wynn told Rigzone.
No Deal Effects
If UK Prime Minister Theresa May's withdrawal agreement is endorsed by the UK parliament, industrial emitters will likely remain part of the Emissions Trading System (ETS) until end-2020, according to energy research and consultancy company Wood Mackenzie.
"If not, the UK will cease to be party to the EU ETS in Q1 2019," Wood Mackenzie states in its 'Energy in Europe: What to Look For in 2019' insight.
"In the absence of the ETS, the UK government intends to introduce a new carbon tax (at GBP 16/tCO2) in addition to existing carbon price floor costs, to maintain a cost of emissions similar to pre-Brexit ETS levels," Wood Mackenzie adds.
The industry is already thinking ahead to avoid negative repercussions in the event of no-deal. OGUK, for example, has been trying to take active part in discussions with the Department for Business, Energy and Industrial Strategy, as it strives to have an impact on the discussion over the future relationship with Europe.
Wood Mackenzie confirmed to Rigzone that the UK is trying to build a wide range of new interconnection with continental Europe's power networks to prepare for no-deal and face its forecasted negative effects on UK's energy industry. Yet, "a no-deal Brexit would immediately decouple the UK from Europe's internal energy market, meaning that cross-border flows of electricity would no longer be governed by EU rules on efficient trade and cross-border co-operation".
Wynn, who is facing the problem with positivity, told Rigzone, "our expectation is that the arrangements for cross-border trade in electricity and gas will not change significantly as a result of Brexit".
"Detailed common rules for capacity allocation and managing flows across borders have been developed over time and we are not, at this stage, aware of any intention to change these. We would expect any changes to be based on consultation between energy regulators, system operators and network users," he added.
However, Wynn admits that there will be challenges to be overcome in the case of a possible hard Brexit or unfavourable deal, such as "assurances on migration, access to aviation markets and EU ETS".
Caterina is a third-year Journalism and Communications student at Cardiff University. Originally from Verona, Italy, she moved to Wales to pursue her passion for writing. Caterina would like to become a broadcast journalist and plans to pursue a master in the field after she graduates. Reach Caterina at caterina.dassie@outlook.it
Generated by readers, the comments included herein do not reflect the views and opinions of Rigzone. All comments are subject to editorial review. Off-topic, inappropriate or insulting comments will be removed.