Brazil's Offshore Making a Comeback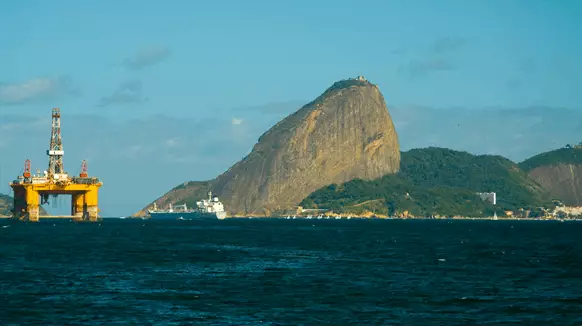 The South American country aims to grow oil production by nearly 200 percent.
A comeback story is unfolding in Brazil's offshore oil and gas sector, one that Décio Fabricio Oddone da Costa – director-general of the country's National Agency for Petroleum, Natural Gas and Biofuels (ANP) – calls a "major transformation."
Through a series of oil auctions planned through 2021, with the first taking place Oct. 28 of this year, ANP aims to spur additional industry activity in Brazil. In fact, the country's government aspires to boost oil production by more than 180 percent: from 2.6 million barrels per day (bpd) in October 2017 to 7.5 million bpd by 2030. During the 2019 Offshore Technology Conference (OTC) last week in Houston, Oddone outlined Brazil's progress toward that goal. Read on for his insights.
Rigzone: Briefly, what are some of the key developments since the previous OTC regarding Brazil's offshore auction program?
Décio Oddone: A major transformation has been happening in the sector not only last year, but in the last three years. Since 2016, a few measures were taken in order to accelerate activities in Brazil, and we have seen a big change in the sector.
In 2014 our sector faced the biggest crisis in all times: Petrobras corruption crisis, the financial scandal, the crash in the oil price, and the fact that we stopped the biddings rounds for five years had an enormous impact in our E&P sector. The number of wells drilled in Brazil dropped dramatically as well as the activities for the industry, affecting the whole chain of suppliers. So, we had to take a series of steps in order to resume the activities. And after almost three years, we can say that we have succeeded in this regard. In 2016, Petrobras was no longer obliged to be the only operator in the pre-salt and this was the big change that allowed the other companies to come. Other measures regarding the local content, Repetro (that is our program for suspending taxes for the importation of equipment for the oil and gas sector), the Bid Rounds calendar, were taken and we have had success in the bidding rounds in 2017 and 2018.

Rigzone: Given the transition that has taken place in Brazil's oil and gas industry, are there any misconceptions regarding the offshore auctions that you'd like to clarify for our readers?

Oddone: I would like to say that, much more than the pre-salt, we have other plans. We think that we have to bring new companies and investments to work in our mature fields, in our shallow-water fields and in our onshore fields. And we are taking a series of measures to attract those companies. We have established a new regime. We call it Open Acreage and it offers new areas onshore, and also both onshore and offshore blocks that have been offered and relinquished in the past. These areas will be in permanent offer and available to the companies to jump in and decide which blocks they want to have in this special offer. When you combine the Open Acreage and the Petrobras divestment plan for onshore and shallow waters fields, you see new opportunities for small and midsize companies specialized in mature fields.
In 2018, we asked Petrobras to define which of the more than 250 concessions that they operate in shallow waters and onshore they wanted to keep and invest and the ones they wanted to return to ANP or sell. They replied that they want to sell more than 70 percent of those concessions. So, we may see, in 2019 and 2020, an enormous increase in the presence of different companies operating these small and midsize fields in Brazil, generating a new type of player.

Rigzone: What are some of the challenges in Brazil's offshore oil and gas value chain, and what steps is the Brazilian government taking to improve them?

Oddone: What we did in the past three years was a big success, but is not enough, in our point of view. We have to continue doing things the right way, so exploration can result in discoveries, discoveries can result in developments and developments can represent increasing production. And production means taxes, government revenues, company profits, jobs and benefits for the whole industry and the country.
For 2019, we have in front of us a prospect of three bidding rounds: the 16th concession bidding round with several very attractive offshore blocks in the vicinity of the pre-salt, in the Campos and Santos basins, and blocks in the northeast part of Brazil, as well as offshore. We will have the sixth production sharing round with a series of attractive blocks inside the pre-salt polygon and probably the bidding round for the surplus volumes and the transfer of rights of the contracts that Petrobras signed in 2010 with the government, with the right to explore and produce 5 billion barrels. Much more than that was discovered so the government is planning now to have an auction to offer the surplus volumes for the market and we expect this bidding round to happen in 2019.
So, it is a wide range of opportunities that we have in Brazil, in 2019. When you add all these opportunities – the bidding rounds from 2017, 2018 and 2019 and the Open Acreage – we see that this will transform the oil and gas industry in Brazil, specially the E&P sector. It will change our industry. The production will more than double and the number of platforms operating in Brazil will almost double. We will see a completely different industry. An industry that will require the support of a different supply chain.

Generated by readers, the comments included herein do not reflect the views and opinions of Rigzone. All comments are subject to editorial review. Off-topic, inappropriate or insulting comments will be removed.