BP Wants to Simplify the Way Employees Work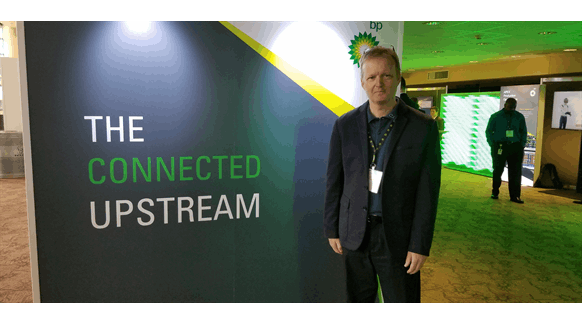 BP's head of digital upstream Rob Kelly says work should be just as enjoyable as being at home.
Rob Kelly, head of upstream digital for BP, had just come from a data science expo at the company's Houston office before meeting a group of media professionals at the Offshore Technology Conference Tuesday morning.
During the media briefing, BP executives shared their Modernization and Transformation agenda (M+T = Sustainably Improving Performance + Feel) which they began working on almost three years ago.
BP is looking at M&T in three different areas they describe as:
Agility: transforming and simplifying the way we work
Digital: transforming how we deliver – digitizing and automating our operations
Mindset: transforming the way we think
"The people at the expo were just fascinated by what we're trying to do to pull that digital organization together," Kelly told Rigzone.
He added, "It's not about doing it in a single place or project or operation. It's about 'can we identify something we can then scale, do it in one region and then scale across the 14 regions we have in the world?' We're just scratching the surface with the M&T agenda."
Kelly said BP is trying to deliver value in three months, in which the technology team approves a concept that his team then takes and delivers MVP (Minimum Viable Product) to an asset or facility.
"For the 18,000 people we have working in the upstream, they're really looking for ways to make their day-to-day job more fun, more interesting and easier to do. That's the big positive here," said Kelly. "It's trying to make coming to work as enjoyable as being at home."
Kelly and his team have received feedback about how difficult it is for people to get a hold of the right data to do their jobs.
"It's in spreadsheets spread all over the place," he said.
Kelly looks down at his smartphone and scrolls left to right.
"Just like the apps on my phone, which make things so much easier in my home life – you've really got to make it as easy as that in the work life. That's the key," he said. "I think if we can do that, then we can attract the millennials and the young folks to come in … because that's what they do, that's what they like."
Generated by readers, the comments included herein do not reflect the views and opinions of Rigzone. All comments are subject to editorial review. Off-topic, inappropriate or insulting comments will be removed.