BP Signs On As Canada LNG Project Customer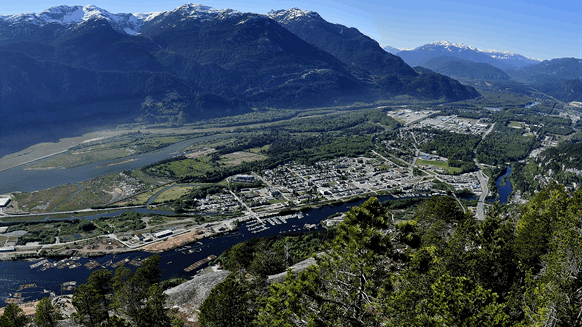 The small-scale Woodfibre LNG project would be located at a brownfield site near Squamish, British Columbia.
BP Gas Marketing Limited has signed a binding liquefied natural gas (LNG) sales and purchase agreement (SPA) for deliveries from the proposed Woodfibre LNG Export facility near Squamish, British Columbia, project developer Pacific Oil & Gas Limited (PO&G) reported Wednesday.
"We are honored to have BP as a foundation customer of our Woodfibre LNG project," Ratnesh Bedi, PO&G president, said in a written statement. "BP is a global LNG portfolio player and a pioneer in the international LNG business. We look forward to providing BP with a consistent supply of flexible Canadian LNG that can displace more carbon-intensive fuels."
PO&G stated that the SPA specifies terms for the delivery of 0.75 million tonnes per annum (mtpa) of LNG over 15 years on a free on board basis, with first delivery anticipated in 2023. Moreover, the company reported that it is working on a deal with BP Canada Energy Group ULC under which BP Canada would provide gas transportation and balancing services to Woodfibre LNG over a 15-year term.
"This SPA further broadens our supplier base and adds to BP's ability to offer cleaner energy to world," noted Jonty Shepard, chief operating officer of BP's LNG global business, stated.
PO&G plans to develop Woodfibre LNG at the site of a former pulp and paper mill approximately 43 miles (70 kilometers) north of Vancouver. The company stated that the facility will be capable of producing approximately 2.1 mtpa of LNG and offer 250,000 cubic meters of storage capacity. Canada's National Energy Board has authorized the project to export LNG over a 40-year period, and provincial and federal governments as well as local First Nation have granted environmental approvals for the development, PO&G states on its website.
"Woodfibre LNG is a tremendous opportunity for British Columbia and Canada to get clean natural gas to growing markets in Asia," Woodfibre LNG President David Keane stated. "PO&G has made significant investments in Canadian natural gas because they are confident in the future of LNG in Canada."
The small-scale Woodfibre LNG project is one of two proposed LNG developments in British Columbia, according to this April 2019 map from the province's website. Three additional projects are either under construction or are operational.
Generated by readers, the comments included herein do not reflect the views and opinions of Rigzone. All comments are subject to editorial review. Off-topic, inappropriate or insulting comments will be removed.