BP Leaving Alaska
|
Tuesday, August 27, 2019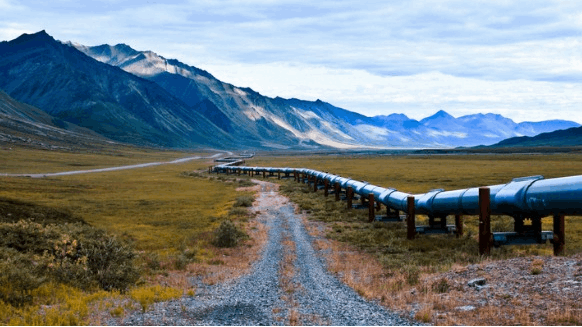 Hilcorp will acquire the entirety of BP's upstream and midstream assets in Alaska.
BP plc reported Tuesday that it has agreed to sell all of its operations and interests in Alaska to Hilcorp for $5.6 billion, ending a six-decade run in the state.
With the deal, Anchorage-based Hilcorp Alaska – already the largest private operator in the state – will gain ownership of BP's interests in high-profile upstream and midstream assets such as the giant Prudhoe Bay field and the Trans Alaska Pipeline (TAPS).
"Alaska has been instrumental in BP's growth and success for well over half a century and our work there has helped shape the careers of many throughout the company," BP CEO Bob Dudley said in a written statement. "We are extraordinarily proud of the world-class business we have built, working alongside our partners and the State of Alaska, and the significant contributions it has made to Alaska's economy and America's energy security."
Nevertheless, Dudley added that other opportunities in the U.S. and internationally "are more closely aligned with our long-term strategy and more competitive for our investment."
Hilcorp's $5.6 billion acquisition will comprise $4 billion payable in the near term and $1.6 billion through a subsequent earnout, BP stated. In addition, BP noted the transaction – part of its plan to divest $10 billion in assets through 2020 – should close next year and is subject to state and federal regulatory approval.
BP also stated that it is "committed to providing clarity … as soon as possible" about the future of the approximately 1,600 employees associated with BP Alaska.
For 2019, BP expects its net Alaska oil production to approach 74,000 barrels per day. In addition to its 26-percent interest in the Prudhoe Bay oil field that it operates, BP owns non-operating interests in the producing Milne Point (50 percent) and Point Thomson (32 percent) fields, the shallow-water Liberty Energy Project off the North Slope (50 percent) and exploration lease interests in the Arctic National Wildlife Refuge (ANWR), the company noted. Besides its shares in TAPS, BP operates the Alyeska Pipeline Service Co. and holds stakes in the Milne Point and Point Thomson pipelines.
Hilcorp, which operates more than 75,000 barrels of oil equivalent per day of gross production in Alaska, purchased interests from BP in four operated North Slope oilfields five years ago, BP added. The fields include Endicott, North Star, Milne Point and Liberty.
"Our people have achieved incredible success over the decades developing and maintaining these hugely important assets, but we are confident this sale is in BP's and the state's best interests and the business will be best positioned for the future with Hilcorp," said Janet Weiss, regional president for BP Alaska. "We will do all we can to ensure they are able to quickly build on the strong foundation that we and others have built here."
Dudley also stressed that BP remains open to growth opportunities elsewhere in the United States.
"Our exit from Alaska does not in any way diminish BP's commitment to America," he concluded. "We remain very bullish on the U.S. energy sector. In just the last three years we have invested more than $20 billion in the U.S. and we will continue to look at further investment opportunities here."
To contact the author, email mveazey@rigzone.com.
Generated by readers, the comments included herein do not reflect the views and opinions of Rigzone. All comments are subject to editorial review. Off-topic, inappropriate or insulting comments will be removed.