BLOG: Your Belly Might Not Be the Only Thing Full Around Thanksgiving
by Matthew V. Veazey
|
Rigzone Staff
|
Thursday, November 16, 2017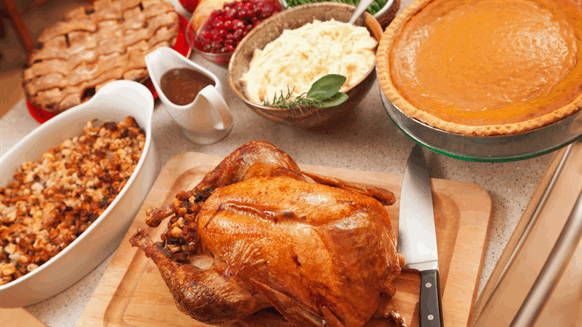 Trade group expects strong holiday sales at c-stores.
Do your plans for the annual ritual of ingesting copious amounts of turkey, mashed potatoes, stuffing, cranberry sauce and pumpkin pie – also known as Thanksgiving – include driving out of town for the pleasure of doing so? If so, you might have more company than usual on the highways during the already-busy travel period – not to mention the convenience stores en route.
So says the National Association of Convenience Stores (NACS), which on Monday released its latest monthly NACS Consumer Fuels Survey.
"Thanksgiving is always one of the busiest days for convenience stores," Jeff Lenard, NACS vice president of strategic industry initiatives, told Rigzone. "It used to be because they were one of the few places open, but they are now busy because people are traveling to the malls or to friends and family. And sometimes, it's just nice to escape a crowded house for a few minutes and grab a cup of coffee."
According to NACS, 93 percent of American drivers surveyed said that they will drive the same or more over the next 30 days. That 93 percent constitutes a record, added NACS, which also found that 72 percent of consumers plan to spend the same or more in stores in the next month. It also means that "c-stores" anticipate strong sales for fuel, food and drinks through the end of the year. Bolstering NACS' prediction are the American Automobile Association and IHS Markit, which project that Thanksgiving automobile travel volume this year will be the highest since 2005.
"Prices at the pump continue to drive consumer optimism," stated NACS, pointing out that 75 percent of those surveyed said that fuel prices affect their views of the economy. In fact, the convenience store trade organization found that 61 percent of consumers expressed optimism about the economy – on par with October's result and 11 percentage points higher than the November 2015 figure. By U.S. region, consumer optimism reportedly was highest in the Northeast (65 percent), followed by the South (62 percent), Midwest (59 percent) and West (57 percent).
According to Lenart, whether the prediction of robust sales at c-stores actually pans out over the next several weeks hinges on a trio of conditions.
"The three biggest factors that determine consumer spending at convenience stores are gas prices, consumer optimism and the weather," Lenard said. "It looks like two of those three will be positive across the country over the coming weeks. The weather will vary depending on where you are, but so far so good."
To examine detailed results of the survey, which queried 1,100 U.S. adults who purchase fuel for a vehicle at least once a month, visit the NACS website.
Generated by readers, the comments included herein do not reflect the views and opinions of Rigzone. All comments are subject to editorial review. Off-topic, inappropriate or insulting comments will be removed.
MORE FROM THIS AUTHOR
Matthew V. Veazey
Senior Editor | Rigzone