BLOG: Where's Oil and Gas Travel Getting Pricier (and Cheaper)?
by Matthew V. Veazey
|
Rigzone Staff
|
Thursday, October 12, 2017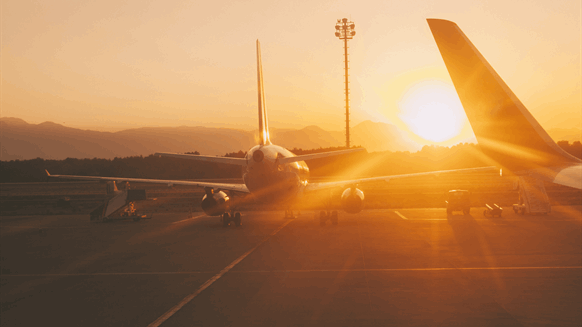 Read this if you're heading to Aberdeen, Houston or other oil and gas hubs in 2018.
Whenever I've had the opportunity to chat with oil and gas professionals at conferences and other events, the conversation has often drifted to where their work has taken them. I've always found geography interesting, and I enjoy learning about various parts of the world from those who've worked and even lived in places I've only read about. Indeed, many of the folks who make up the oil and gas industry crisscross the globe on a regular basis.
Buying a plane ticket to reach some of the world's oil and gas hubs, along with staying in a hotel while you're there, should get more expensive over the next 18 months, according to a recent report by Carlson Wagonlit Travel (CWT). A CWT executive said the higher travel costs represent a positive sign for oil and gas and related industries, though.
"Companies in this realm are finally set up to operate with profits despite the continued lower price of oil," Raphael Pasdeloup, a CWT senior vice president said in a press release announcing his company's 2018 forecast for airfares to and hotels in common Energy, Resources and Marine (ERM) sector locales. "We are seeing investments going up, especially within supply chains. With this increased activity ERM travel prices will rise, which means costs will need to be managed appropriately as budgets catch up."
Pricing in general will get a boost from an anticipated 3.6 percent growth in global gross domestic product next year along with favorable foreign exchange rates against the U.S. Dollar within many ERM-dependent countries, according to CWT. The global business travel management company also predicts that operations in remote areas will see more airline routes and increased hotel capacity, reversing a two-year trend. Here are some region-by-region highlights for 2018 from the report:
The Americas
In the wake of Hurricane Harvey, Houston faces a period of uncertainty from a hotel occupancy perspective. Nevertheless, low oil prices in recent years have affected the area's hotel occupancy rates. CWT expects the oil price trend to continue – despite a temporary increase in occupancy levels following Harvey – and it forecasts a 2.2-percent decline in Houston-area hotel rates for 2018.
CWT anticipates a 3.8-percent increase in hotel rates in Calgary.
Air routes to discontinued to oil and gas markets should open up, and Houston should benefit from such market improvements. CWT projects that airfares to Houston should go up by 2 percent.
Having hosted the 2014 FIFA World Cup and the 2016 Summer Olympics, Rio de Janeiro boasts an abundance of hotel rooms. In fact, CWT says "an over-supply of hotel capacity" exists in the city. As a result, hotel rates should decline by 3.8 percent next year.
Airlines in Brazil are increasingly "unbundling" their fares, meaning that they charge a base fare for a seat and assess additional fees based on individual travelers' preferences for extras such as meals and checked bags. Although oil and gas industry travelers may see lower ticket prices on Brazilian airlines, their overall airfare costs may not decline and may even go up by adding options to an unbundled fare.
Europe, Middle East and Africa
More international business and leisure travelers are expected to visit Stavanger, Norway, resulting in an 11.5-percent increase in hotel rates in the oil and gas hub.
In general, hotel rates and airfares throughout Europe should be on the rise in 2018. Meanwhile, growth is set to be more muted in Africa and the Middle East.
Asia Pacific
Travel costs to some ERM hubs – namely, Mumbai, Singapore and Tokyo – should rebound in 2018 after a few years of weak demand.
Rising domestic demand will put upward pressure on airfares and hotel rates in China and India. However, the private and public sectors are taking steps to address this. For instance, low-cost carriers are expanding routes and gaining a greater profile among business travelers.
Airfares to Mumbai, Jakarta and Manila should go up by 7.7 percent, 7 percent and 6 percent, respectively, next year.
Overall, does this mean that the oil and gas travel market is finally improving? It really depends on the segment of the industry, the type of company and the geography, Pasdeloup told Rigzone.
"For instance, some companies cut deep into their travel spend early after oil prices started to decline and kept tightening their belts," Pasdeloup said. "Others were slower to react and started to cut their travel spend much later."
Companies that cut travel budgets early are allocating new dollars in travel to support their growth, Pasdeloup continued. In addition, he said that companies that cut later tend to reallocate existing dollars within their travel spending by "traveling smarter."
"In this sense, they haven't increased their travel spend, but they are still looking for ways to optimize their practices and can take more trips for the same overall costs," Pasdeloup explained.
"With the increase in CAPEX and new products being launched, we see travel increasing to specific growth markets, and companies involved with the boom in West Texas are also increasing their travel," Pasdeloup said.
Below is a list of CWT's projected percentage changes in air and hotel prices for 2018 in selected oil and gas hub cities.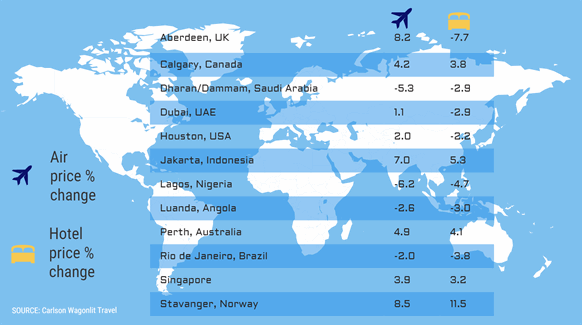 Generated by readers, the comments included herein do not reflect the views and opinions of Rigzone. All comments are subject to editorial review. Off-topic, inappropriate or insulting comments will be removed.