BLOG: The Job of Keeping Offshore Workers Well-Fed Never Ends
by Matthew V. Veazey
|
Rigzone Staff
|
Thursday, August 16, 2018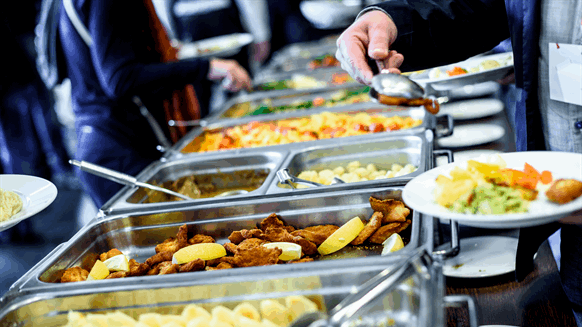 Find out what goes into keeping an offshore facility's galley operating 24/7.
Having grown up on the Louisiana Gulf Coast, I had a number of friends and acquaintances who worked offshore. When they were back on land, the topic of our conversations occasionally got to food and how much they enjoyed the culinary delights available to them in a rig's galley: ribeye steaks, ice cream bars and much more.
Raphael Pasdeloup helps to ensure that the herculean task of feeding large groups on a mechanical island in shifts every three hours non-stop, day and night, gets done. As senior vice president and global head of CWT Energy, Resources and Marine, Pasdeloup oversees a team that ensures the crew and staff – including the chef – get to the rig on schedule. What makes this job particularly challenging is getting catering staff onsite at often remote, hard-to-reach locations and then getting them back home. Read on for excerpts from my recent conversation with Pasdeloup about what goes on behind the scenes to keep offshore workers nourished.
Rigzone: What are the primary steps involved with ensuring that an offshore rig is sufficiently staffed and supplied from a catering perspective?
Pasdeloup: Offshore rigs come in many different types and sizes and can range from a dozen workers to over 100 people. Depending on the size of the site, staffing will be done accordingly and meal rosters are established to define precise quantities of supply to be brought on board.
In many respects, staffing a catering crew and supplying a kitchen on a rig are the same as with any big hotel – except that rigs require more forward planning as supplies typically come once a week, with alternative sources quite limited when you're situated offshore, 100 miles from the nearest coastline.
The chef is just one part of an ecosystem that relies on an intricate logistical chain to ensure that each crew member can be brought from his or her home to the rig and back once the rotation ends.
Rigzone: How many chefs are needed to adequately staff a rig?
Pasdeloup: It depends on the operational set up and the rig size. You could have a rig staffed from 20 people or, in the case of Shell Prelude, up to 240 people that may require multiple chefs.
For us, what matters is knowing the rotation cycle – or how many weeks each crew is expected to be on the rig – and whether an organization needs to have a chef replaced or have multiple chefs on a rig. Either way, we need to be prepared to cater to the volume of movement.
Rigzone: What are the complexities of getting a chef and other catering staff onto an offshore facility that many people perhaps don't appreciate?
Pasdeloup: Getting workers offshore is a complex business. The geographical distance between home and workplace can be immense.
A typical trip starts with a commercial flight that can be followed by a charter flight to a more remote location, an overnight stay at a hotel or camp, and transfer the next day by helicopter to a rig hundreds of miles offshore in the Gulf of Mexico, Brazil or possibly Nigeria. All these steps need to be perfectly timed to ensure optimal use of resources and assets, and they need to be safely executed.
Then, you have to contend with other factors specific to each country. For example, in some countries, it is notoriously difficult to coordinate the arrival with the visas. Some visas expire in 48 hours. If you're not there and the visa is rescinded, we have to go through the process again, causing delays.
Other complexities could come from national laws that we need to consider when working on staffing and rotation. There are some laws that dictate the mix of nationalities that can work on national installations. We have to manage that roster. We'll be given a list of individuals, their nationalities, visa situation and location. Our job is to marshal those resources and get them to the right embarkation point on time and disperse them when they're rotating back.
1
2
View Full Article
Generated by readers, the comments included herein do not reflect the views and opinions of Rigzone. All comments are subject to editorial review. Off-topic, inappropriate or insulting comments will be removed.