BLOG: Millennials, Gen Z Underprepared for Industry 4.0
by Valerie Jones
|
Rigzone Staff
|
Thursday, May 31, 2018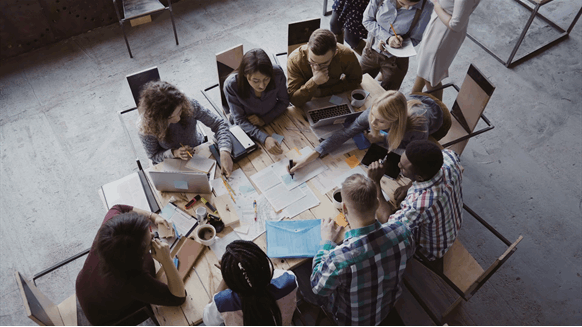 A new report from Deloitte reveals younger generations' perceptions of businesses as well as their uncertainty about whether they're prepared for the new industrial revolution.
During the downturn, the oil and gas industry lost hundreds of thousands (more than one million by some estimates) of workers. A significant amount of those who left retired while some just decided to never return.
This makes way for younger talent to enter the industry. Yes, I'm talking about millennials and the generation following them, Gen Z.
But according to Deloitte's 2018 Millennial Survey, these younger folks aren't necessarily in favor of – or prepared – for Industry 4.0. Deloitte refers to Industry 4.0 as the fourth industrial revolution in which smart, connected technology (think artificial intelligence and Internet of Things) is embedded within organizations and people's daily lives.
Deloitte's report surveyed more than 10,000 millennials (born 1983-1994) and almost 2,000 Gen Z (born 1995-1999) from across the world. The report found that more than half of millennials (62 percent) believe companies have no ambition beyond wanting to make money and less than half (48 percent) believe companies behave in an ethical manner.
When it comes to diversity and inclusion, it gets worse. About two-thirds of millennial and Gen Z respondents believe most business leaders pay only 'lip service' to diversity and inclusion and believe only formal legislation can adequately advance workplace diversity.
For millennials, diversity is less about demographics (age, gender, lifestyle and culture) and more about differences and tolerance. Gen Z tends to equate diversity more with demographics and respect and knowledge of individuals.
The survey also asked millennials what aspect of diversity they thought most needed to be addressed by the wider society, businesses in general and their own employers. Surprisingly, educational background is an area both millennials and Gen Z feel businesses need to address the most.
"I think the younger generation represents the New World Order … they represent the viewpoint of today," Amy Chronis, Houston managing partner for Deloitte, told Rigzone. "I think [diversity and inclusion] is an acute issue in terms of attracting, fostering and retaining talent. The oil and gas industry is already doing a lot of things talentwise, but I think the survey illustrates that it needs to find better ways to communicate and engage talent in their efforts."
Loyalty and the Gig Economy
It's a narrative we've heard before.
The younger generations have no company loyalty. They're habitual job-hoppers.
Deloitte reports that 43 percent of surveyed millennials envision leaving their job within two years (up from 38 percent in 2017) and just 28 percent expect to stay at their employer more than five years (down from 31 percent in 2017). Among employed Gen Z respondents, there's even less loyalty as 61 percent expect to leave within two years and 12 percent expect to stay beyond five years.
"The survey did reflect a sharp reversal in loyalty, which was surprising to us," said Chronis.
With the gig economy, which has gotten quite popular in the last few years, many people have left full-time employment or supplemented their income by taking on short-term contracts or freelance work.
1
2
View Full Article
Generated by readers, the comments included herein do not reflect the views and opinions of Rigzone. All comments are subject to editorial review. Off-topic, inappropriate or insulting comments will be removed.