BLOG: Gasoline in the US Still a Good Deal
by Matthew V. Veazey
|
Rigzone Staff
|
Thursday, January 11, 2018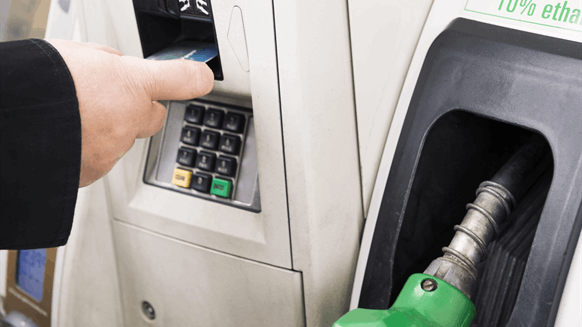 Average gasoline price in US is still low compared to other OECD countries.
Although it doesn't expect gasoline prices to set any records in 2018, GasBuddy predicts that the U.S. motorists will pay more to tank up for the second consecutive year. In its 2018 Fuel Price Outlook, the crowdsourced smartphone app forecast a yearly national average gasoline price of $2.57 per gallon – a 19-cent increase from last year and the highest price since 2014.
Why does GasBuddy expect U.S. gasoline prices to go up again this year?
"Ultimately, OPEC bears much of the responsibility for cutting oil production, leading oil inventories to begin 2018 nearly 50 million barrels lower than a year ago," Patrick DeHaan, GasBuddy's head of petroleum analysis, said in a written statement announcing the price prediction. He added, however, that other drivers are at play.
"Yet, understanding many factors, including OPEC, fuel taxes, the economy and their impact on supply and demand is integral to providing a thorough and balanced outlook on gas prices for 2018," DeHaan continued. "Even one event can completely change (the) trajectory of fuel prices for months. Look what impact Hurricane Harvey and Irma had on gas prices and availability. No one could have expected the unexpected, but still, our forecast was less than a dime away from being spot on."
DeHaan was referring to the accuracy of GasBuddy's yearly national average gasoline prices for the past two years: a prediction of $2.49 per gallon versus an actual price of $2.39 for 2017 and a $2.28 prediction versus $2.12 actual for 2016.
Other projections from GasBuddy's latest gasoline price outlook include:
American motorists will spend $364.6 billion on gasoline in 2018, a $25 billion increase from 2017. On average, that translates into a household gasoline bill of $1,898 – a year-on-year increase of $133.
Gasoline prices should peak below $3 a gallon throughout the United States, but some metro areas will likely surpass that threshold. Specific metros include Chicago, Los Angeles, New York City, Sacramento, San Francisco, Seattle and Washington, D.C. Moreover, GasBuddy noted that several other cities – Cleveland, Detroit, Miami, Minneapolis, Orlando, St. Louis and Tampa – might get "within arm's reach" of that level.
Although some Americans will likely grumble at the notion of paying more to tank up their vehicles, it's instructive to point out that gasoline in the United States remains very affordable relative to what motorists in other developed countries pay. As the website GlobalPetrolPrices.com observes, the average worldwide price of gasoline is US$1.13 per liter – or $4.28 per gallon. More affluent countries tend to have higher prices, the website adds, but the U.S. – with its $0.73 average price per liter ($2.76 per gallon) – is a notable exception. To provide some perspective on just how good Americans have it compared to their peers in other countries in the Organisation for Economic Co-Operation and Development (OECD), check out the chart below.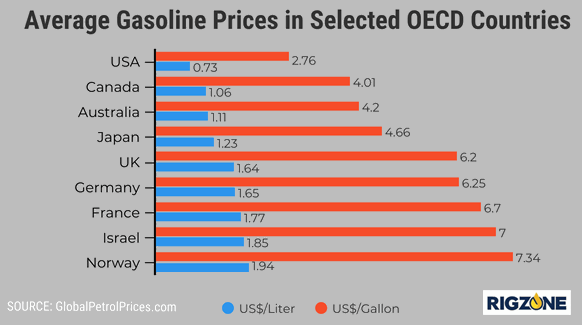 Generated by readers, the comments included herein do not reflect the views and opinions of Rigzone. All comments are subject to editorial review. Off-topic, inappropriate or insulting comments will be removed.