BLOG: Four Things You Need to Know About Living Offshore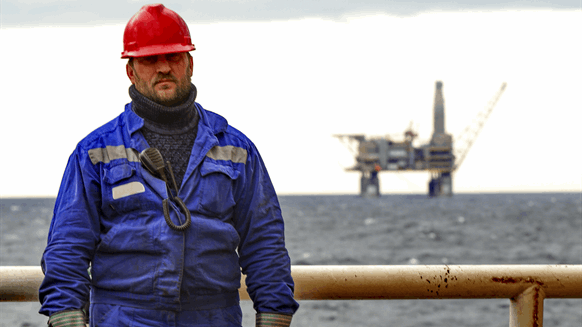 Here are a few pieces of advice for newcomers to life offshore.
Have you landed that first summer internship offshore? Are you getting ready to start that first hitch as a roustabout? Whatever your role may be, getting used to life offshore on a drilling rig or production platform will be an adjustment. I recently asked a couple of offshore pros for tips on how to ease the transition. Below are their insights.
Don't Leave Shore without A Support Network
If you've decided to work offshore, you're hopefully doing so with the full support of your spouse and/or other loved ones. You've also hopefully discussed with those closest to you a game plan for dealing with emergencies should they arise while you're away.
"It's imperative that not only you are comfortable with working away, but also your loved ones will be able to cope in your absence," Australian wellsite geologist and Amanda Barlow told me.
"If you have personal relationship pressures at home, you need to reconsider your career choice," added Barlow, also a published author who has written books designed to inform industry newcomers and their family and friends about the realities of working offshore.
Acknowledging that workers typically can maintain contact with spouses, children and others from offshore facilities via phone and the Internet, Barlow said a support network at home is critical to overcome your distance-related limitations.
"Even if you do have stable relationships, it's still important to plan ahead in case of dramas at home in your absence so other family and friends can pull together if they need to act on your behalf," Barlow said. "Always ensure your employer has contact details of your emergency contact at home and that your family has details of your employer should they need to get sensitive information to you. If you are a supervisor then you will probably have access to a phone at all times of the day and night that your loved ones can ring you on, but if you work on the deck or directly involved in the drilling operations then people at home cannot directly contact you."
Be Ready to Pay Your Dues
Working offshore can be physically demanding, and your time on the clock most certainly will not be 8 a.m. until 5 p.m. – particularly if you're a newcomer. Instead, prepare to be on duty at least 12 hours straight each day you're on the rig or platform.
Offshore oil and gas facilities are noisy, and permanent hearing loss can result from excessive exposure to noise.
According to Bob Bruce, Principal with Houston-based CSTI acoustics, an 85-decibel A-weighted (dBA) criterion is common for hearing conservation. (The website noisehelp.com explains what dBA is.)
"Most production decks will be 80 to 90dBA, with levels as high as 100dBA near major equipment such as compressors," Bruce said. "Levels above 100dBA are common near platform supply vessels, flares and fire water pumps."
Bruce noted that interior noise criteria range from 40 to 50dBA for cabins and sickbays to 50 to 55dBA for offices and the mess hall to 60 to 75dBA for laundry, electrical rooms, muster areas and warehouses.
"If the noise level is over 80 to 85dBA, use hearing protection," added Bruce. "If over 95dBA, use double hearing protection."
"The work schedule is unrelenting," said Barlow, adding that many at the bottom rung of the offshore hierarchy find the long hours a major adjustment. "As a bottom-feeder you will almost be guaranteed of having to work your ass off to gain respect and prove your worth, so expect long, tiring days out on the deck and further 'off-tour' time participating in training and safety meetings. While you will be told you will be working 12-hour shifts, in reality it is more like a guaranteed 13-hour shift with pre-tour meetings and handover time spent with your back-to-back co-worker."
Respect Personal Space And Personal Time
Space is at a premium on an offshore facility, and there's a good chance that you will be sharing sleeping quarters with co-workers. Following a few simple shared room etiquette rules will pay dividends in terms of camaraderie, said Barlow.
"It makes for a much happier relationship if you respect each other's personal space," she said. "Always leave your room tidy and take everything with you that you will need throughout your shift so you don't have to return to your room and disturb the off-tour personnel. Being quiet while inside the accommodation block is imperative as sleep is a much sought-after commodity offshore."
To be sure, suppliers of offshore accommodations do try to make the time off-tour as peaceful as possible. For instance, Daniel Melcher, Americas business development manager with ELA Container Offshore, told me that his company's living quarters feature door windows with magnet curtains that provide a "total darkness environment for sleep."
"It also has a noise cancellation rating of 45 decibels (dB), providing a quiet environment inside that allows for uninterrupted sleep," Melcher said of his company's modular accommodation units. (This chart from Purdue University provides some idea of what 45 dB equates to.)
Don't Hog The Bandwidth
Nowadays, offshore workers commonly enjoy access to the Internet via wireless networks. That does not mean, however, that you'll be able to download that Hollywood blockbuster or the latest bestseller with ease offshore. If you do want to watch movies or read on your mobile device in your downtime, save yourself – and your co-workers – some frustration by loading the content at home before your hitch begins, advised Barlow.
"While most rigs will now provide Wi-Fi facilities, they are ALWAYS inadequate to deal with larger data requirements," Barlow said. "It's important to prepare for this before leaving home to make sure you have downloaded any apps, eBooks, etc. that you might need as these may not be able to be downloaded offshore."
In addition, Barlow pointed out that sending or receiving large photo, video or data files can be difficult as well.
"Make sure all recipients are able to compress file sizes as much as possible before attempting to send," she said. "It's extremely frustrating waiting for a video of a loved one to download before going to bed and missing out on an hour of much-needed sleep in the process!"
(The above list is not exhaustive. What other advice can you give those who are about to work – and live – offshore for the first time?)
Generated by readers, the comments included herein do not reflect the views and opinions of Rigzone. All comments are subject to editorial review. Off-topic, inappropriate or insulting comments will be removed.