Baker Hughes to Manufacture Onshore Flexible Pipe in Houston
by Matthew V. Veazey
|
Rigzone Staff
|
Friday, February 05, 2021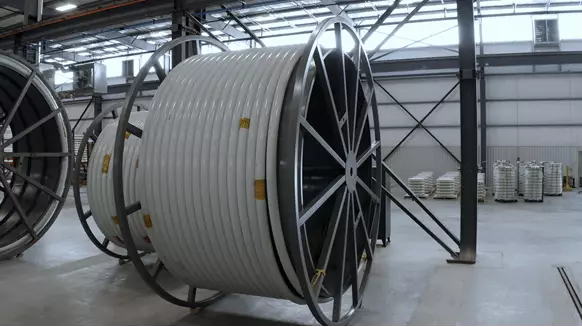 Baker Hughes last week unveiled a new composite flexible pipe for onshore pipelines. PHOTO SOURCE: Baker Hughes
Baker Hughes (NYSE: BKR) last week unveiled a new composite flexible pipe for onshore pipelines.
"This pipe is the result of our strategic investments for growth in innovative non-metallic materials," Hatem Haidar, global vice president of flexible pipe systems – onshore at Baker Hughes, remarked in a written statement emailed to Rigzone.
According to the company, the flexible, lightweight reinforced thermoplastic pipe (RTP) addresses corrosion and cost of ownership challenges associated with conventional steel pipe for the energy, oil and gas, and industrial sectors. The firm argues the pipe's "proven, spoolable design" makes it easier, faster, and more cost-effective to transport and install than steel pipe. Moreover, it claims the RTP's installed costs are 20-plus percent lower than those of steel, with installation requiring fewer onsite support facilities and heavy vehicles and taking up less width on a pipeline right-of-way.
Baker Hughes noted that it will produce RTP at its 400,000-square-foot manufacturing facility in Houston. The company pointed out the pipe will be available up to eight inches in diameter, with multiple liner options and the ability to deliver fluid pressures up to 2,250 pounds per square inch.
The manufacturer stated that RTP is suitable for transporting carbon dioxide and hydrogen, along with conversion of existing infrastructure to carry gases. The issue of carrying hydrogen in re-purposed natural gas pipelines has been a popular topic recently on Rigzone. Last week Bloomberg reported that U.S. pipeline owners are contemplating that possibility given expected ongoing hostility to new fossil fuel pipeline infrastructure from the Biden administration.
The Bloomberg article, along with a Rigzone reader whose comment appears beneath the news item, also points out that hydrogen presents a significant corrosion-related challenge with steel pipe. A summary of the form of corrosion – called hydrogen embrittlement – appears on the website of the Association for Materials Protection and Performance, which is the new name of the recently merged NACE International and SSPC: The Society for Protective Coatings. RTP's non-corrosive materials reduce operating expenses because they can withstand contaminants without needing chemical inhibitors, corrosion monitoring and inspection, and disruptive repairs, stated Baker Hughes.
"We see flexible pipe as a vital component of today and tomorrow's energy and industrial sectors – enabling the transport of multiple energy sources, including hydrogen and natural gas," commented Haidar.
To contact the author, email mveazey@rigzone.com.
Generated by readers, the comments included herein do not reflect the views and opinions of Rigzone. All comments are subject to editorial review. Off-topic, inappropriate or insulting comments will be removed.
MORE FROM THIS AUTHOR
Matthew V. Veazey
Senior Editor | Rigzone