Baker Hughes Signs Long-Term Saudi Arabia Contracts
by Matthew V. Veazey
|
Rigzone Staff
|
Wednesday, November 13, 2019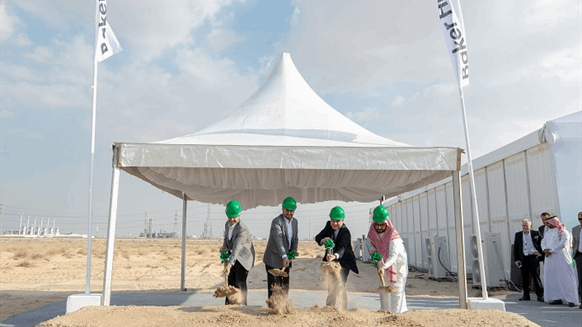 Baker Hughes broke ground Wednesday on its first manufacturing site in Saudi Arabia. PHOTO SOURCE: Sadara
Baker Hughes Co. will receive feedstock chemicals for its first manufacturing site in Saudi Arabia from Sadara Chemical Co. under newly signed long-term supply agreements, Sadara reported Wednesday.
Sadara will supply the new Baker Hughes facility with ethylene oxide (EO) and propylene oxide (PO) via pipeline over a 20-year period, the Saudi Aramco-Dow Chemical Co. joint venture (JV) noted in a written statement emailed to Rigzone. The JV and Baker Hughes formally signed the contracts at a ground-breaking ceremony Wednesday for the facility, which Baker Hughes is building at PlasChem Park adjacent to the world-scale Sadara chemical complex in Jubail Industrial City, Saudi Arabia.
"We are excited to have signed these supply agreements with Baker Hughes, a step that will help them establish a strong presence in the booming industrial sector in Saudi Arabia," commented Sadara CEO Faisal M. Al-Faqeer. "The competitive benefits that this relationship is going to bring to chemicals manufacturing in the Kingdom are significant, and in complete alignment with our efforts as Sadara to enable downstream manufacturing opportunities in Kingdom, and with Vision 2030."
Vision 2030 is Saudi Arabia's broad plan to spur improvements in the Kingdom in areas such as economic development and diversification, employment, housing, health care, finance and quality of life. Al-Faqeer noted that PlasChem Park will support opportunities to diversify Saudi Arabia's manufacturing sector and that Baker Hughes is one of the park's first tenants. According to Sadara, the 4.6-square-mile (12-square-kilometer) industrial park is dedicated to the chemical and conversion sectors.
Sadara broke ground on the EO/PO pipeline in early March of this year. In a written statement issued at the time, the company noted the pipeline system will serve PlasChem Park tenants and is the first of its kind on the Middle East and North Africa region.
"We are pleased to partner with Sadara as we build our first chemicals manufacturing facility in Saudi Arabia to meet the growing needs of customers in the Kingdom and across the Middle East," stated Jerome Jammal, vice president of Baker Hughes' Oilfield and Industrial Chemicals unit. "The chemicals we will make at this facility are essential to the safe, efficient delivery of energy. Localizing these manufacturing capabilities in Saudi Arabia is a demonstration of our commitment to serving our customers and developing our local workforce."
To contact the author, email mveazey@rigzone.com.
Generated by readers, the comments included herein do not reflect the views and opinions of Rigzone. All comments are subject to editorial review. Off-topic, inappropriate or insulting comments will be removed.
MORE FROM THIS AUTHOR
Matthew V. Veazey
Senior Editor | Rigzone