ASME Offers All-Expenses-Paid Oil and Gas Career Tour
by Matthew V. Veazey
|
Rigzone Staff
|
Tuesday, June 26, 2018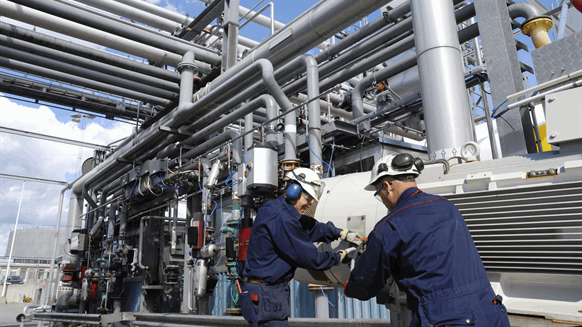 ASME's Collegiate Council is designed to attract mechanical engineering students to oil and gas careers.
Attention mechanical engineering students: a unit of the American Society of Mechanical Engineers (ASME) wants to inform you about career options in the oil and gas industry and pay for the privilege of doing so.
Each year, ASME's Petroleum Division (PD) invites two groups of 20 to 40 mechanical engineering students from universities throughout North America to participate in its Collegiate Council (CC) program. Each CC member – selected based on an online application, a personal essay and a faculty advisor's recommendation – travels to two intensive, 3 ½-day working meetings in a city with a strong oil and gas industry presence. PD sponsors the meetings to build awareness of oil and gas career opportunities for mechanical engineers. The crash courses in the oil and gas industry include facility tours, presentations, a group project, one-on-one meetings with industry pros and networking opportunities.
Dena Demboski, Houston-based vice president of drilling and completions with UpCurve Energy and a PD volunteer who helps to run CC, describes the program as a "fully funded opportunity to bridge the gap between school and the oil and gas industry."
"Students gain exposure to some of the newest technology and learn about types of jobs within the different oil and gas divisions – upstream, downstream and midstream – and gain insight on various career paths for engineers that help them make more educated decisions about job selection after school," said Demboski. "In addition they have opportunities to network with other engineers in industry and students wanting to get involved with industry, ask questions and make life-long contacts that could help lead them to their next job."
Another Houston-based CC volunteer, retired subsea engineer Don Wells, said practicality is a hallmark of the program.
"It's a real introduction to the opportunities provided in the petroleum industry," said Wells, whose nearly four-decade career included positions with ConocoPhillips and Hess Corp.
In addition, Wells touted CC's emphasis on:
introducing participants to potential mentors
simulating real-world experience by giving participants the chance to collaborate on projects with team members from other colleges and universities
learning in a non-academic setting
taking on responsibilities so that success or failure affects one's reputation and relationship with a team rather than grades
To be sure, Wells added that the value of the program hinges on how much each CC member is willing to participate. Students selected for the ASME event should be ready to ask questions, generate ideas, contribute to a team, deliver a project and follow through on team activities in a timely manner, he said.
"One of the learnings we try to deliver is that one of the differences between a student and an engineer is that students answer questions that they are given and an engineer answers questions that they make up themselves, again a real-world type environment experience," said Wells.
Also, Wells pointed out that many ASME PD volunteers such as himself experience a mixture of regret and admiration with each CC session.
"It is rare for those that have agreed to speak or provide tours or participate as a contributor not to say at the end of their participation, 'Man, I wish this was available when I was in school' or 'These students have an amazing opportunity' or 'These students are a notch ahead of others that have not taken the opportunity' or something to that effect," said Wells. "It is that obvious."
Demboski noted she's living proof that CC is an effective oil and gas industry recruiting tool.
"I participated in CC prior to becoming a mentor," concluded Demboski. "I can say that my experience on the CC is what drove me to choose this industry as my profession. In addition, it's led me to seek opportunities within the upstream sector and I still keep in touch with the folks that were on the council with me as well as the professionals I met during my time participating."
For more information about the Collegiate Council, visit the ASME Petroleum Division's website. Also, stay tuned for a future Rigzone article highlighting recent participants' impressions of the program.
Generated by readers, the comments included herein do not reflect the views and opinions of Rigzone. All comments are subject to editorial review. Off-topic, inappropriate or insulting comments will be removed.
MORE FROM THIS AUTHOR
Matthew V. Veazey
Senior Editor | Rigzone