Ask the Careers Editor: A Wrap-Up
by Valerie Jones
|
Rigzone Staff
|
Monday, October 23, 2017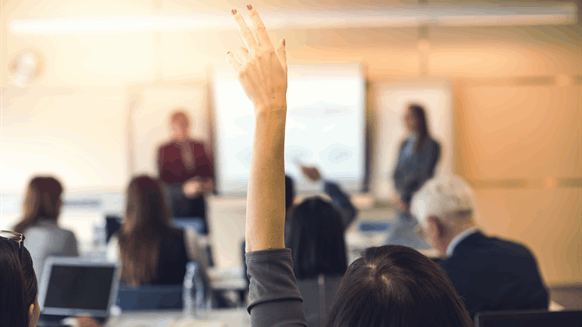 For months Rigzone has been receiving your career questions. We noticed some common themes and decided to address them at once.
For six months now, I've been fielding your employment and career questions via my "Ask the Careers Editor" series. I've also begun noticing patterns in the kinds of career questions you ask. See excerpts from some of the questions below.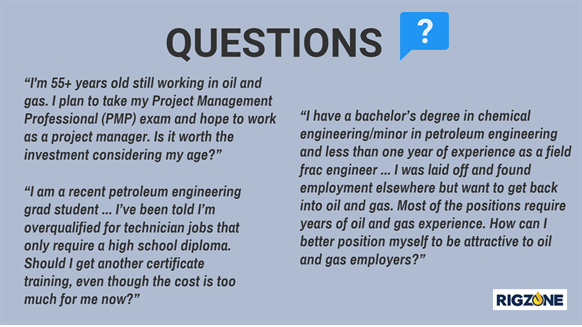 Most of the questions I receive fall under the umbrella of the same themes as these: what to do if you're overqualified for a job, how to remain attractive to oil and gas employers and whether or not pursuing a degree during this time will give you a good ROI.
So, I decided to tap an expert: Dave Weir, career coach and CEO of LeadershipOptimized. Weir specializes in helping people find and land a job they'll love. Weir offers up advice on how these readers can navigate their career paths.
How to Impress Employers
Weir advises job candidates to take a good inventory of the following:
Hard Skills: technical skills you develop with years of experience (e.g. running specific machinery/equipment, finance, accounting, pipeline engineering, project management).
Soft Skills: interpersonal skills, team play/collaboration abilities, communication (verbal/written/presentation), confidence, attitude, flexibility, etc. Soft skills are critical, said Weir, and are where a hiring company looks when you only meet 70-80 percent of the job requirements.
Transferrable Skills: skills and abilities relevant and helpful across different areas – or "portable skills." For example, you may have been a machine operator on a piece of equipment that requires extreme attention to detail. Attention to detail is a soft skill that may be important to a new job you are considering.
"Now scour the job description of the position you are considering and match your own hard, soft and transferable skills to it," Weir said. "Let's assume this is for an oil and gas industry job. Even if you don't have oil and gas experience, but conduct this exercise, it will ensure you can tell a story as to why you are not only a fit for the open position, but convince them that you can do it."
I'm Overqualified for the Job
If you were laid off and want to stay in the same industry, Weir said it's fine to apply to lower level positions you're overqualified for, but keep the longer term in mind.
"HR people in an economically tough industry or company that has experienced a downturn understand that layoffs happen. Their main concern in considering you for a lower level position is that you're taking whatever you can get now – and will jump ship once you have more time to find a position at your level," he said. "Your job is to convince them otherwise."
It's best to be positive by avoiding bad mouthing past employers or the industry. Show enthusiasm about the open position and company as it relates to your career trajectory.
"It's okay to admit upfront with them that the job would be a step backward, but you need to craft your career story as to why you are a good cultural fit for their company … why this job would be positive for you and them in the long run," he said. "This could even mean gaining expertise in a new functional area for you. In other words, convince them of why the position would still be a challenge for you and a good step in the right direction for where you want your career to go."
Is a Degree a Good Investment?
This requires some research on the part of the job candidate, specifically whether getting another degree will improve job prospects.
"Speaking directly with others in the role you want or the company you'd like to work for is a smart exercise here to determine if another degree is really required," Weir said. "Often your experience, fit for the company's culture and other soft skills are enough."
Cost is another factor.
"Consider the total cost of another degree (tuition, time, etc.) against how rapidly you anticipate another degree will increase your pay," he said. "If the return on your investment is five years or less and you have 20 years left in your career, that's not a bad bet. If not, the degree is probably not worth pursuing."
Weir also suggested job candidates consider obtaining certificates from accredited and recognized institutions as they tend to cost less and take less time to complete.
Although I will no longer be publishing "Ask the Careers Editor" as a monthly series, it doesn't mean you stop reaching out! I often shape some of my editorial content based on what you all want to know. So please feel free to continue to email me at Valerie.Jones@rigzone.com.
All responses are given in good faith. It is your responsibility to ensure any particular role or course of action is suitable to you. Rigzone does not guarantee employment of any kind. For full details of our terms under which you agree to be bound, please see https://www.rigzone.com/terms.asp.
Generated by readers, the comments included herein do not reflect the views and opinions of Rigzone. All comments are subject to editorial review. Off-topic, inappropriate or insulting comments will be removed.