Analyst: Mexico's AMLO Will Need Revenue from Energy Sector
by Matthew V. Veazey
|
Rigzone Staff
|
Monday, July 02, 2018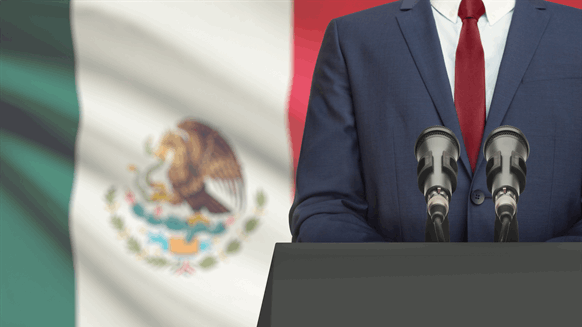 Wood Mackenzie analyst explains Mexico's elections results and what it means for the oil and gas industry.
By a large margin, Mexico's voters have elected Andrés Manuel López Obrador (AMLO) as their next president. A leftist who will take office this December, AMLO has criticized the significant steps Mexico's government has implemented in recent years to encourage private foreign investment in the country's energy industry.
According to Wood Mackenzie, the energy industry is trying to determine what actions the incoming administration will take and what impact they could have on Mexico's energy reforms and its upstream, downstream, gas and power markets.
"With the election of a new president, Mexico is at the crossroad between continuity and change," remarked Ixchel Castro, manager of Latin American oils and refining markets research with Wood Mackenzie.
Castro also pointed out that, despite the current uncertainty, AMLO will clearly need energy industry revenue throughout his six-year term to deliver on campaign promises. She also noted that his administration could benefit by allowing the energy reforms to continue.
"This administration stands to reap the rewards of the reforms – increased production, private investment and job creation – but this will require strong backing from both the incoming administration and government coalition support," explained Castro. "Therefore, we expect this new administration will recognize the need for future licensing and private investment throughout the energy value chain."
Castro added, however, that Wood Mackenzie does expect a slowdown in Mexico's energy privatization momentum. She reasoned that the new administration will likely halt new rounds in its first year as AMLO "fills key roles and resets priorities" for reform. Nevertheless, she added that the level of interest in recent rounds provides evidence that "companies remain committed to Mexico" and that interest in foreign investment in Mexico should continue.
"(A)lthough energy reform implementation will likely slow, especially at the beginning of López Obrador's term, we expect it to largely remain on its current trajectory," Castro said. "Efforts to strengthen Pemex will benefit consumers if the administration continues to promote a more competitive market under the best international practices."
Paul Sheldon, chief geopolitical advisor with S&P Global Platts Analytics, pointed out that AMLO's public statements about oil reforms during the campaign have fed some of the uncertainty within the energy community.
"Campaign comments on his plans for oil reforms have been mixed, with his nominee for chief of staff supporting more oil tenders, while potential picks for energy and finance ministers have advocated halting the process," Sheldon said in an S&P Global Platts statement emailed to Rigzone. "We continue to believe he will likely slow down the oil tenders, and raising local content requirements also looks possible."
Sheldon added, however, that putting a permanent end to Mexico's energy reforms still represents a formidable challenge for the three coalition partners that will take power: AMLO's leftist MORENA party, the left-wing Labor Party and the conservative Social Encounter Party.
AMLO's "coalition is unlikely to secure the two-thirds Congressional majority required to reverse constitutional reforms, and existing contracts do not appear to be at risk," explained Sheldon. "Therefore, the impact on our production forecast through 2025 will be minimal."
Generated by readers, the comments included herein do not reflect the views and opinions of Rigzone. All comments are subject to editorial review. Off-topic, inappropriate or insulting comments will be removed.