Allseas Drillship to Pursue Deep-Sea Metals
|
Thursday, March 05, 2020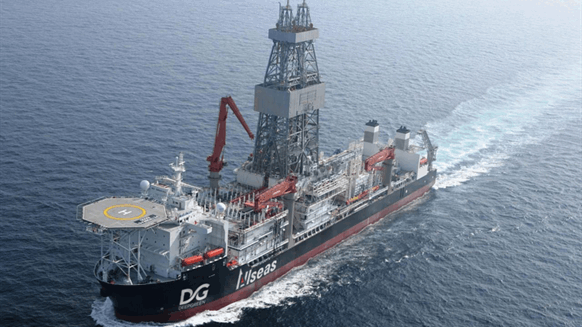 Allseas will equip the Vitoria 10000, above, with a riser to recover rocks laden with valuable metals from the ocean floor. PHOTO SOURCE: Allseas Group S.A.
Allseas Group S.A. reported this week that it has acquired the Vitoria 10000, a former ultra-deepwater drillship previously owned by Petrobras, to re-configure for an emerging business: recovering deep-sea "nodules" containing high-grades of metals such as nickel, manganese, copper and cobalt.
The metals within the seafloor-based rocks are key ingredients for building electric vehicle batteries and renewable energy technologies. Moreover, Allseas stated that sourcing metals from the deep sea reduces environmental and social impacts.
"Allseas is excited to be involved in the exploration of the deep ocean for these important metals," Edward Heerema, founder and president of Allseas, commented in a written statement from his firm. "Deep-sea polymetallic nodule collection represents a new frontier and a new exciting chapter in Allseas' history. With our offshore expertise and innovative capacity, we can develop creative technical solutions for this new industry."
Allseas, partnering with the minerals exploration and development firm DeepGreen Metals Inc., stated that will convert Vitoria 10000 into a "polymetallic nodule collection vessel." The drillship – built in 2010 – will be fitted will a deep-sea mineral collection system to recover polymetallic nodules from the ocean floor in an environmentally responsible manner and transfer them to the surface for transport to the shore, added Allseas, which is engineering the recovery technology. Onshore, DeepGreen will process the nodules using a metallurgical flowsheet that it developed.
Citing the vessel's 748-foot (228-meter) length, 138-foot (42-meter) width and ability to accommodate 200 people, Allseas pointed out the ship is well-suited for modifications enabling seaborne deployment of the 2.8-mile (4.5-kilometer)-long riser that it is developing.
"To have partners like Allseas bring their engineering excellence and passion to help get this industry started makes us, and the industry, very fortunate," remarked DeepGreen Chairman and CEO Gerard Barron. "The green transition is going to require hundreds of millions of tonnes of nickel, copper and cobalt, and our research shows that ocean polymetallic nodules could provide society with these critical minerals at a fraction of the environmental and social impacts associated with land-based extraction."
Allseas noted that DeepGreen is participating in an unprecedented integrated surface-to-seabed research program aimed at improving understanding of collecting nodules from the ocean floor. The company added the research effort will develop new scientific knowledge about the Pacific Ocean and help it to design nodule collection technologies that minimize environmental impacts.
An Allseas spokesperson told Rigzone that the shipyard where the conversion will take place has not been confirmed. The company stated that it expects the re-configured vessel to be ready for initial nodule collection tests by mid-2021.
To contact the author, email mveazey@rigzone.com.
Generated by readers, the comments included herein do not reflect the views and opinions of Rigzone. All comments are subject to editorial review. Off-topic, inappropriate or insulting comments will be removed.