AG&P Receives Philippines' First LNG Cargo
|
Thursday, April 27, 2023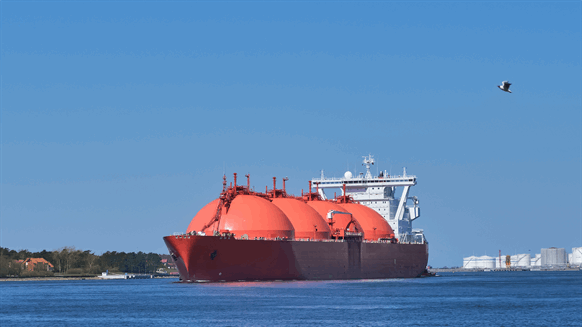 The Philippines turns to importation amid depleting domestic natural gas production.
Image by Natallia Pershaj via iStock
AG&P International Pte. Ltd. said the Philippines' first-ever liquefied natural gas (LNG) cargo arrived Wednesday in the country, which turns to importation amid depleting domestic natural gas production.
"Singapore's LNG firm AG&P will soon start commissioning activities at the first import terminal in the Philippines following the completion of a ship-to-ship LNG transfer between Golar Glacier and Ish in Subic Bay", AG&P said on social media.
Ish is a floating storage unit with a capacity of 4.86 million cubic feet (137,512 cubic meters) AG&P had converted from an LNG carrier of ADNOC Logistics and Services (ADNOC L&S) under a 15-year deal signed with the Emirati company last year. ADNOC L&S will supply LNG to, as well as operate and maintain, the vessel, chartered for 11 years with an option to extend for four years, AG&P said announcing the agreement February 23, 2022.
On Thursday the maiden LNG consignment reached AG&P's terminal in Batangas Bay, it said on Facebook, calling the development "historic". The terminal, about 80.78 miles (130 kilometers) driving from Manila, is the Southeast Asian nation's first LNG import facility.
The Philippine Energy Department has approved seven LNG terminals so far, amid declining local gas output and the growing global push for cleaner fuel.
Production from the Malampaya gas field, the only active of just two commercial natural gas discoveries in the archipelago, has consistently dropped since 2019, from 155.49 billion standard cubic feet (Bscf) that year to 113.61 Bscf in 2022, according to an update by the department February 15.
Shell late last year completed the sale of its entire 45 percent operating stake in the field to local company Prime Infrastructure Capital Inc.
Natural gas has been the Philippines' third-biggest energy source. It contributed 18,675 gigawatt hours (GWh) to the national grid in 2021 behind coal at 62,052 GWh and renewables at 23,771 GWh but ahead of oil at 1,616 GWh, based on the latest available data by the Energy Department.
While supply has dwindled, the department has forecast an annual growth rate in peak power demand of about seven percent from 2020 to 2040. To meet the demand, the country of over 113 million people needs to raise installed capacity by more than five times from 22,317 megawatts in 2019 to 114,601 MW in 2040, according to the agency's "Power Development Plan 2020-2040".
The maiden LNG delivery will feed San Miguel Global Power's 1,200-megawatt power plant in Batangas province, according to AG&P's announcement.
To contact the author, email jov.onsat@rigzone.com
What do you think? We'd love to hear from you, join the conversation on the Rigzone Energy Network.

The Rigzone Energy Network is a new social experience created for you and all energy professionals to Speak Up about our industry, share knowledge, connect with peers and industry insiders and engage in a professional community that will empower your career in energy.