Additional Capital Discipline Critical for Future Shale Sucess
by Michael Lynch
|
Rigzone Contributor
|
Monday, May 06, 2019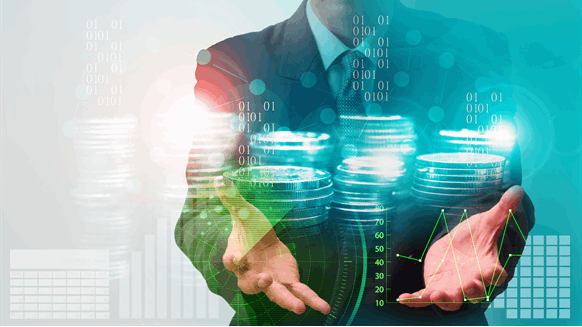 In the midst of the current shale boom, investors are pushing for more capital discipline, lower costs and better returns.
This opinion piece presents the opinions of the author or authors.
It does not necessarily reflect the views of Rigzone
The shale industry continues to surprise and confound both the market and investors: the market by producing more than expected, but investors by producing lower returns than they would like. The result has been a cry from some investors to exhibit more capital discipline in order to reduce costs and improve returns.
It seems as if the smaller shale companies are genetically driven to race ahead, in spite of the torpedoes, as they were born from an aggressive outlook towards an evolving new geological province. George Mitchell succeeded in unlocking the shale gas resource by not listening to financial advisors who thought he was throwing away his money. Also, when the shale resource was poorly understood (and oil and gas prices were astronomically high), it seemed prudent to lock up leases as quickly as possible. Unfortunately, this led to high debt levels which proved difficult to service when prices retreated, causing a number of bankruptcies and restructurings.
Debt reduction became the watchword, and did so again after last fall's surprise oil price collapse. As Valerie Jones reported in Rigzone March 1, a Rystad survey suggested a five percent reduction in capital expenditures by shale producers. Now, however, some companies appear to be ramping up activity, causing one investment firm (Tudor Pickering Holt) to say, "Please for the love of God, don't do it!"
But I would argue that the current situation is not as risky as the two previous groups of failures, in two particulars. First, companies are not engaging in a mad land-rush where they acquired large amounts of non-producing assets; they are more focused on drilling, which generates immediate revenue. Second, the last two rounds of bankruptcies and restructurings were set off by the collapse in first, natural gas prices, and then world oil prices (See figure). Gas had been around $8/Mcf and dropped to $4/Mcf while oil had gone from $100/barrel to roughly $50.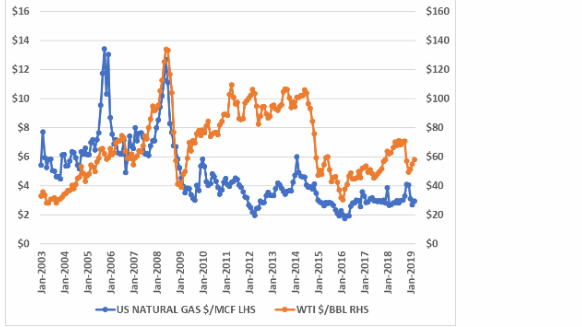 U.S. Oil and Gas Prices
The odds of oil or gas prices dropping by 50 percent from current levels for an extended period appears vanishingly small. Natural gas, in particular, is a relatively stable market where booms and busts are less common, since political supply disruptions are few and OPEC irrelevant. It is hard to imagine natural gas dropping from $2.50 to $1.25/Mcf (ignoring the Permian situation), and while oil could conceivably fall to $30 for WTI, that is clearly unsustainable. The worst threat would be if some event in the Mideast sent oil prices soaring, and shale producers assumed they would persist at elevated levels—and borrowed and spent on that assumption.
And oil and gas are different. Natural gas producers in the Marcellus cannot expect a price boom to give them a big payday and should stick to the "shale as manufacturing" approach with steady investment and moderate debt. For oil producers, even a year and a half of high prices can yield significant returns from fast-declining wells, so that having an inventory of prospects (undrilled or unfracked) which can be brought online rapidly when prices are high can be a valuable strategy—as long as the company can pull back when prices drop.
This doesn't mean that companies should disregard their debt levels. The threat to cash flow is naturally greatest for the smaller producers who don't have the deep pockets of an Exxon or a Chevron and they should avoid treating their investment as a gamble: big payout with high prices, risking bankruptcy with a significant price drop.
Generated by readers, the comments included herein do not reflect the views and opinions of Rigzone. All comments are subject to editorial review. Off-topic, inappropriate or insulting comments will be removed.
MORE FROM THIS AUTHOR
Michael Lynch
Rigzone Contributor