$7.5B Louisiana LNG Investment Advances
|
Monday, September 23, 2019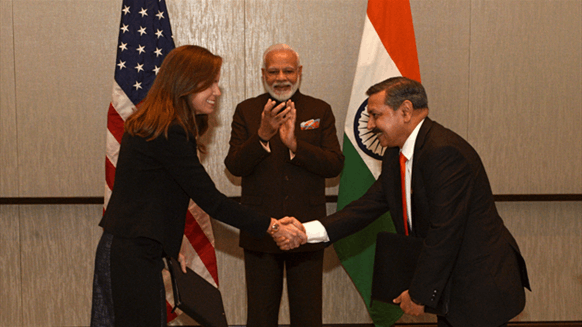 From left: Tellurian President and CEO Meg Gentle, Indian Prime Minister Narendra Modi and Petronet CEO Prahbat Singh. PHOTO SOURCE: Gene McMahon/Miracle Films
Tellurian Inc. reported in February of this year that Petronet LNG Limited INDIA (PLL) might invest in its proposed Driftwood LNG liquefaction and export facility near Lake Charles, La.
During a ceremony in Houston Saturday witnessed by Indian Prime Minister Narendra Modi, officials with both companies signed a memorandum of understanding (MOU) to advance Petronet's equity investment plan.
The MOU will enable Petronet and its affiliates to negotiate the purchase of up to 5 million tonnes per annum (mtpa) of LNG from Driftwood concurrent with its equity investment in Driftwood, Tellurian noted in a written statement over the weekend.
In a separate statement Sunday to the Bombay Stock Exchange and the National Stock Exchange of India, Petronet executive Rajan Kapur pointed out the investment process facilitated by the non-binding MOU is subject to due diligence and Petronet board approval.
As Bloomberg reported last year, Tellurian is funding Driftwood in an unorthodox manner. The company minimizes its debt by seeking upfront payments from investors who would own the project and obtain LNG at cost, the news agency explained.
Rather than sell contracts, Tellurian is taking on partners who would each take on a proportional share of the project debt, company spokesperson Joi Leczar told Rigzone Monday. She pointed out that Petronet's deal would be worth $7.5 billion in total: 5 mtpa in LNG equating to $2.5 billion in equity and a $5 billion share of the project debt. Tellurian would secure the debt on behalf of the project partners, Leczar added.
"Petronet, India's largest LNG importer, will be able to deliver clean, low-cost and reliable natural gas to India from Driftwood," Tellurian President and CEO Meg Gentle stated in the company's weekend announcement.
Tellurian's 27.6-mtpa Driftwood project also includes natural gas production, gathering and processing infrastructure and the 96-mile (154.5-kilometer) Driftwood Pipeline. The company won authorization for the LNG export facility and pipeline in April from the U.S. Federal Energy Regulatory Commission.
Petronet is India's largest LNG importer, having developed a 17.5-mtpa receiving and gasification terminal at Dahej in the country's Gujarat state and a 5-mtpa facility at Kochi, in Kerala state, Tellurian noted. Partners in the Petronet joint venture include GAIL (India) Limited, Oil & Natural Gas Corporation Limited (ONGL), Indian Oil Corp. Limited and Bharat Petroleum Corp. Limited (BPCL).
"Increasing natural gas use will enable India to fuel its impressive economic growth to achieve Prime Minister Modi's goal of a $5 trillion economy while contributing to a cleaner environment," stated Gentle. "At Tellurian, we look forward to a long and prosperous partnership with Petronet net in the Driftwood project."
Tellurian also noted that it seeks to finalize the transaction agreements with Petronet by March 31, 2020. The Driftwood LNG website states the facility is targeted to begin operations in 2023.
To contact the author, email mveazey@rigzone.com.
Generated by readers, the comments included herein do not reflect the views and opinions of Rigzone. All comments are subject to editorial review. Off-topic, inappropriate or insulting comments will be removed.