$4B India Complex Might Use Wind and Solar Power
|
Thursday, October 17, 2019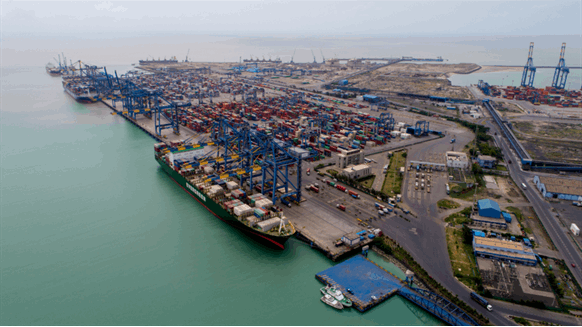 This photo shows the designed site for the chemical complex, Mundra Port in Gujarat, India. PHOTO SOURCE: Adani
Abu Dhabi National Oil Co. (ADNOC) reported Thursday that it has signed a memorandum of understanding (MOU) with Adani Group, BASF SE and Borealis AG to study the feasibility of developing a chemical production complex in Mudra, India.
With the MOU, ADNOC and Borealis become potential partners in a BASF-Adani proposal to develop acrylics value chain facilities at Mundra Port in India's Gujarat state. In January of this year, BASF and Adani signed a separate MOU to explore developing, constructing and operating what would be BASF's largest-ever investment in India. According to a BASF written statement at the time, the acrylics value chain complex would primarily serve the Indian market and would comprise the following units:
Propane dehydrogenation (PDH) plant
Oxo C4 complex (butanols and 2-ethylhexanol)
Glacial acrylic acid (GAA)
Butyl acrylate (BA)
Potentially other downstream products.
The four-way MOU announced Thursday represents the "next step" in BASF and Adani's plan unveiled earlier this year, and the various parties are examining structuring options for the chemical complex that would take advantage of each firm's technical, financial and operational strengths, ADNOC noted in a written statement emailed to Rigzone. The companies project a total investment of up to $4 billion.
According to ADNOC, the collaborators will evaluate a joint world-scale PDH plant that would use ADNOC-supplied propane to produce propylene. In addition, the company noted that propylene would be a partial feedstock for a polypropylene (PP) complex that it would own jointly with Borealis. Also, it stated that propylene would be the key raw material for the acrylics complex outlined in the bulleted list above.
"As a value-adding partner, ADNOC will play a crucial role as the propane feedstock supplier to this project," commented Sultan Al Jaber, UAE Minister of State and ADNOC Group CEO. "As the fastest-growing global energy market, India is crucial to our international growth ambitions in the downstream sector. As such, this project allows ADNOC and its partners to capture the promising growth in the Indian polyolefins market."
Borealis CEO Alfred Stern stated the partnership would boost his company's presence in India and use proprietary Borealis Borstar PP technology.
Martin Brudermueller, chairman of the board of BASF SE, noted the chemical complex would be "pioneering in terms of sustainability." According to BASF, the partners are evaluating co-investing in a wind and solar park that – if realized – would make the Mundra complex the world's first CO2-neutral petrochemical site fully powered by renewable energy.
ADNOC, BASF, Borealis and Adani expect to finalize the joint feasibility study by the end of the first quarter of 2020. They also anticipate that production at the proposed Mundra complex could begin in 2024.
To contact the author, email mveazey@rigzone.com.
Generated by readers, the comments included herein do not reflect the views and opinions of Rigzone. All comments are subject to editorial review. Off-topic, inappropriate or insulting comments will be removed.
RELATED COMPANIES
Company: Abu Dhabi National Oil Co. (ADNOC)
more info