46.3B Barrels of Oil in Wolfcamp-Bone Spring
|
Thursday, December 06, 2018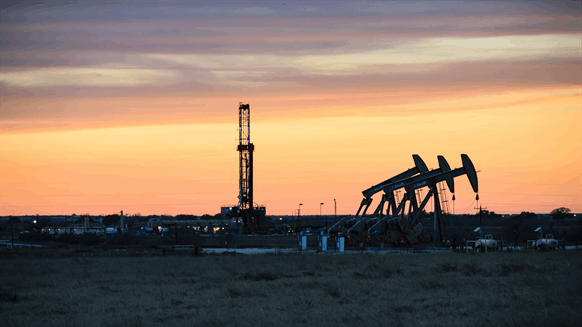 New federal study estimates undiscovered, technically recoverable resources in Wolfcamp shale and Bone Spring Formation in Permian's Delaware Basin.
The Wolfcamp shale and overlying Bone Spring Formation in the Delaware Basin portion of Texas and New Mexico's Permian Basin province contain an estimated mean of 46.3 billion barrels (bbl) of continuous (unconventional) oil, according to a new U.S. Geological Survey (USGS) assessment.
In addition, the USGS analysis finds that the Wolfcamp holds 281 trillion cubic feet of natural gas and 20 billion bbl of natural gas liquids. The USGS – part of the U.S. Department of the Interior – stated that the figures refer to undiscovered, technically recoverable resources.
"Christmas came a few weeks early this year," U.S. Secretary of the Interior Ryan Zinke said in a written statement Thursday from his department. "American strength flows from American energy, and as it turns out, we have a lot of American energy. Before this assessment came down, I was bullish on oil and gas production in the United States. Now, I know for a fact that American energy dominance is within our grasp as a nation."
According the Interior Department, USGS in 2016 conducted a separate assessment of the Wolfcamp shale in the Midland Basin portion of the Permian. The new Delaware Basin assessment of the Wolfcamp and Bone Spring is more than two times larger than the 2016 study, the department noted.
"In the 1980s, during my time in the petroleum industry, the Permian and similar mature basins were not considered viable for producing large new recoverable resources," USGS Director Jim Reilly said in Thursday's announcement. "Knowing where these resources are located and how much exists is crucial to ensuring both our energy independence and energy dominance."
Walter Guidroz, program coordinator of USGS' Energy Resources Program, pointed out that the higher estimates stem from innovation.
"The results we've released today demonstrate the impact that improved technologies such as hydraulic fracturing and directional drilling have had on increasing the estimates of undiscovered, technically recoverable continuous (i.e., unconventional) resources."
The American Petroleum Institute (API) applauded the latest USGS assessment.
"Today's announcement reflects yet another benefit of America's shale energy revolution," Mike Sommers, API's president and CEO, said in a statement emailed to Rigzone. "Now the world's largest producer of natural gas and oil, the United States is a global energy leader at the same time we are driving down GHG emissions."
Generated by readers, the comments included herein do not reflect the views and opinions of Rigzone. All comments are subject to editorial review. Off-topic, inappropriate or insulting comments will be removed.
RELATED COMPANIES
Company: US Department of the Interior
more info
Company: American Petroleum Institute (API)
more info