$3.7B Refinery Contract Goes to Samsung and TR
|
Monday, January 13, 2020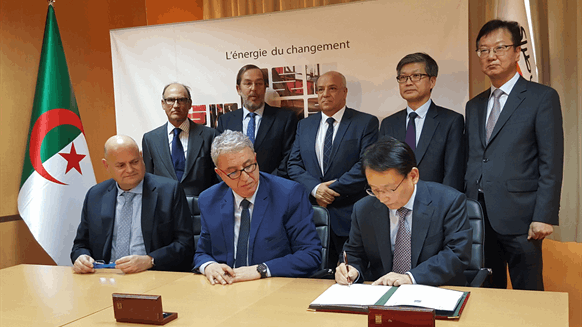 Sonatrach has awarded an EPC&PM contract for a grassroots refinery to a joint venture of Samsung Engineering and Tecnicas Reunidas. PHOTO SOURCE: Samsung Engineering
Algerian national oil company Sonatrach has awarded a $3.7 billion engineering, procurement, construction and project management (EPC&PM) contract for a new refinery to a joint venture of Samsung Engineering and Tecnicas Reunidas (TR), Samsung reported last week.
Under the lump-sum turnkey contract, Samsung and TR will provide EPC&PM services for Sonatrach's grassroots Hassi Messaoud (HMD) refinery project approximately 373 miles (600 kilometers) southeast of Algeria's capital city Algiers. The facility will be capable of processing 110,000 barrels of crude oil per day, Samsung noted In a written statement emailed to Rigzone.
According to Samsung, the scope of work over the approximately 52-month contract will include:
Process and utility unit
Crude distillation unit / vacuum distillation unit
Continuous catalytic reforming unit
Isomerization
Naphtha hydro-treating unit
Hydrodesulfurization unit
Hydrocracker unit
Utility systems.
"Samsung Engineering is honored to be trusted again by Sonatrach as contractor," commented Samsung Engineering President and CEO Sungan Choi. "Our expertise in refinery projects and know-how of the region will secure a state-of-the-art refinery for Algeria."
In a separate written statement, Sonatrach reported that the deep-conversion refinery will meet medium- and long-term internal demand and generate export volumes. The state firm added that the facility will produce the following products under European "Euro V" specifications:
Propane
Butane
95 gasoline
91 gasoline
Kerosene
Diesel
Bitumen
Sonatrach Chairman and CEO Kamel Eddine Chikhi remarked that the HMD project will help his company to meet domestic market needs and contribute to Algeria's economic and social development.
Sonatrach stated that it expects to receive the refinery in March 2024, with final acceptance in March 2026 following a two-year warranty period.
To contact the author, email mveazey@rigzone.com.
Generated by readers, the comments included herein do not reflect the views and opinions of Rigzone. All comments are subject to editorial review. Off-topic, inappropriate or insulting comments will be removed.