35-Year Onshore Abu Dhabi Concession Goes to Inpex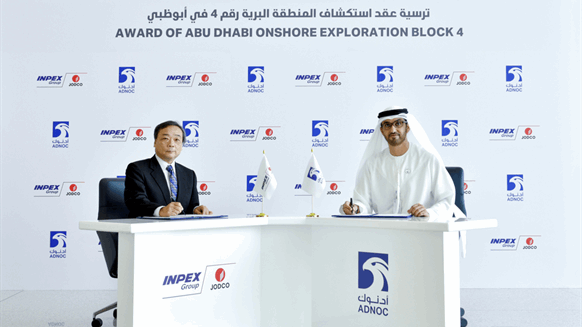 INPEX will invest up to US$176 million in Abu Dhabi's Onshore Block 4. PHOTO SOURCE: ADNOC
Abu Dhabi National Oil Corp. (ADNOC) has awarded the exploration rights for Abu Dhabi Onshore Block 4 to Japan's INPEX Corp., ADNOC reported Sunday.
Under the 35-year concession deal signed on Sunday, INPEX will hold a 100-percent stake in the exploration phase. ADNOC noted that the Japan-based firm will invest up to AED 646 million (US$176 million) – including a participation fee – to explore for and appraise oil and gas opportunities in the 2,361-square-mile (6,116-square-kilometer) onshore block, which extends from the city of Abu Dhabi to the emirate of Dubai.
INPEX – under the auspices of its wholly owned subsidiary JODCO Exploration Limited – will have the opportunity to develop and produce any commercial discoveries after conducting exploration activities and appraisal of existing discoveries, stated ADNOC. The national oil company added that it reserves the option to hold a 60-percent stake in the concession's production phase.
"This award to INPEX is a further demonstration how ADNOC is utilizing value-added partnerships and new technologies to accelerate the exploration and development of Abu Dhabi's substantial untapped hydrocarbon resources," UAE Minister of State and ADNOC Group CEO Sultan Ahmed Al Jaber said in a written statement emailed to Rigzone. "It is an important part of our 2030 smart growth strategy, helping to ensure we stay ahead of the long-term increase in demand for energy and oil and gas products, further strengthening Abu Dhabi's position as an essential energy provider to the world."
According to ADNOC, INPEX will appraise two existing undeveloped oil and gas fields – Ramhan and Hudairiat – in the new concession area. Given the onshore block's proximity to the onshore Al Dabb'iya and Rumaitha and the offshore Umm Al Dalkh fields, ADNOC contends that it holds much potential.
"INPEX positions Abu Dhabi as one of its core business areas, and we look forward to working in close cooperation with ADNOC to help it unlock value from Abu Dhabi's substantial hydrocarbon resources while further expanding and strengthening our own business portfolio," noted Takayuki Ueda, INPEX's president and CEO.
ADNOC's deal with INPEX comes several weeks after the national oil company awarded another 35-year onshore concession to U.S.-based Occidental Petroleum Corp. The agreement with Occidental tied to Onshore Block 3 stemmed from Abu Dhabi's first-ever competitive bidding round.
Generated by readers, the comments included herein do not reflect the views and opinions of Rigzone. All comments are subject to editorial review. Off-topic, inappropriate or insulting comments will be removed.