$3.5B-Plus Saudi Aramco Contracts Go to Saipem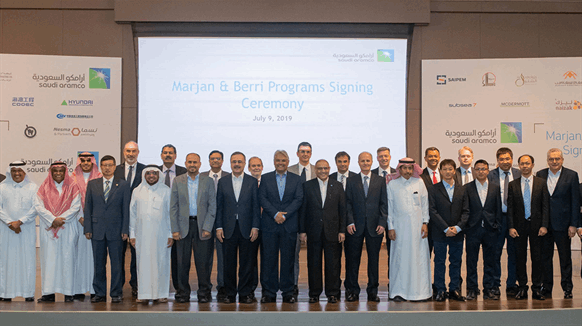 Saipem is one of 16 contract winners in Saudi Aramco's Berri and Marjan development program. PHOTO SOURCE: Saudi Aramco
Saudi Aramco has awarded Saipem two new engineering and construction contracts worth more than $3.5 billion, Saipem reported Tuesday.
Under the engineering, procurement, construction and installation (EPCI) projects, Saipem's Onshore E&C division will develop the land facilities tied to Saudi Aramco's Berri and Marjan gas fields in the Arabian Gulf. According to Saipem, its contracts entail:
Expanding gas facilities for the Berri field by installing new process units at the Abu Ali oil-gas separation plant on the island of the same name, located north of Saudi Aramco's Ras Tanura refinery, and at the Khursaniyah gas treatment plant
For the Marjan field, construction a gas treatment unit and a unit to recover acid gases for sulfur production.
"The awarding of these new complex contracts testifies to the evolution of our historic relationship with Saudi Aramco and confirms the strategic positioning of Saipem in the Middle East," Saipem CEO Stefano Cao said in a written statement emailed to Rigzone. "In the tough context of recent years, Saipem has demonstrated a constant commitment to sustainable economic growth through technological innovation."
The two Saipem contracts are among 34 contracts Saudi Aramco has awarded tied to the engineering, procurement and construction of its Marjan and Berri developments. The national oil company (NOC) reported Tuesday that it plans to raise production capacity at the fields by 550,000 barrels per day (bpd) of Arabian crude oil and 2.5 billion standard cubic feet per day of gas. It stated that elements of the Marjan integrated development project include:
A new offshore gas oil separation plant and 24 offshore oil, gas and water injection platforms
Expanding the Tanajib onshore oil facilities
Constructing a new gas plant to include gas treatment and processing, natural gas liquids recovery and fractionation and gas compression facilities
Developing a cogeneration facility, along with a water desalination facility and new pipelines
The NOC stated the Berri development project, which will raise output from the offshore field by 250,000 bpd, will include:
The new Abu Ali Island gas oil separation plant, which will process 500,000 bpd of Arabian Light Crude per day
Additional gas processing facilities at the Khursaniya gas plant to process 40,000 bpd of associated hydrocarbon condensate
A new water injection facility, two drilling islands, 11 oil and water offshore platforms and nine onshore oil production and water supply drill sites.
Saudi Aramco stated that more than 90 companies and institutions were invited to bid on the Marjan and Berri contracts, valued at $18 billion. Sixteen Saudi and international firms ultimately won the engineering, supply and construction contracts, with Saudi firms claiming 50 percent of the awards, the NOC added. Also, Saudi Aramco is requiring contractors to maximize procurement of material and equipment from local suppliers and manufacturers.
"These two programs will significantly enhance Saudi Aramco's oil production and gas processing capabilities, both strengthening our position as the leading energy supplier and meeting growing long-term demand for petroleum," Saudi Aramco CEO Amin H. Nasser said in a written statement announcing the Marjan and Berri contracts.
Generated by readers, the comments included herein do not reflect the views and opinions of Rigzone. All comments are subject to editorial review. Off-topic, inappropriate or insulting comments will be removed.