$32B Worth of Oil, Gas M&A Deals in 3Q Breaks Record
|
Thursday, October 04, 2018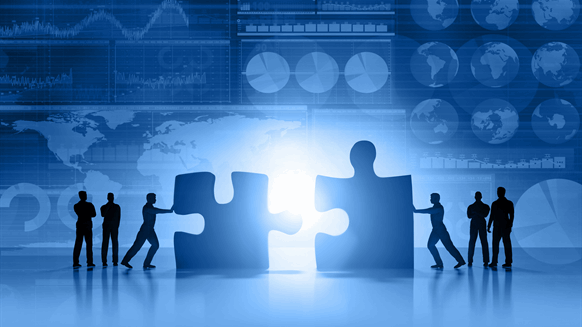 Drillinginfo reports that the US saw a 250% increase in mergers and acquisitions activity in the third quarter.
U.S. oil and gas M&A activity soared in the 3Q to $32 billion, a 250 percent increase from $9.1 billion in 2Q, according to new data from Drillinginfo, which provides software and data analytic services to the energy industry.
Third quarter numbers reflect big upstream deals including BP plc's $10.5 billion purchase of BHP Billiton subsidiary Petrohawk Energy Corporation to acquire onshore assets in the Permian, Eagle Ford, Fayetteville and Haynesville plays, Permian-focused Diamondback Energy's $9.2 billion all-stock deal purchase of Energen Corporation and Chesapeake Energy Corp.'s sell of its Utica shale assets to Encino Acquisition Partners for $1.9 billion.
Drillinginfo said 3Q's M&A activity broke all quarterly records dating back to as far back as 4Q 2012. It's also 76 percent above the quarterly average of $18.3 billion dating back to 2009.
In 3Q, BP's $10.5 buy of BHP's U.S. onshore assets is included in Multiple/Other Play. Deal value is allocated as follows: Permian $3.9B, Eagle Ford $4.8B, Haynesville $1.8B. | Source: Drillinginfo
Drillinginfo senior director Brian Lidsky said he expects U.S. M&A activity to continue at a heightened level.
"The industry is regularly reporting record well results across the U.S. shales as it continues to de-risk acreage positions and advance technology," he said in a release. "As Wall Street is increasingly discriminating among public companies, the food chain of the big getting bigger is alive and well – shale basin leaders are being rewarded for mastering scale, efficiency and technology. This sets the stage for additional mergers that not only checks all the accretive boxes for the buyer, but also provides sellers upside by joining forces with these leaders."
Lidsky goes on to call Diamondback's purchase the beginning of a trend – rather than a one-off.
"Shale basin consolidation will be a continuing theme supplemented by occasional major new entrants for those few large and global companies who have not yet established a significant shale presence," he said. "Private equity and private companies will continue to play a role in deploying carefully calculated risk dollars to fringe areas and benches within established resource plays plus advancing today's technology to new areas like the Powder River Basin as well providing inventory as they move to divest mode."
Generated by readers, the comments included herein do not reflect the views and opinions of Rigzone. All comments are subject to editorial review. Off-topic, inappropriate or insulting comments will be removed.